Is TikTok good for marketing in 2023? The answer is Yes. The download volume of TikTok is still in a state of rapid growth. According to data released by Apptopia (an authoritative market research organization), among the top ten global app downloads in 2022, TikTok tops the list with 672 million downloads, followed by Instagram and WhatsApp with 548 million and 424 million downloads respectively. follow. At the same time, TikTok's influence continues to spread around the world. For example, GUESS partnered with TikTok to launch TikTok's first branded content in the US for the #InMyDenim challenge, where they invited popular content creators to showcase their new denim apparel.
A TikTok blogger uploaded a video of spraying expandable spray foam around a circular mirror to DIY a disco mirror, and tagged it with hashtags such as #disco #meltingdiscoball. The sales of disco accessories became popular, and the search volume of discoball on the e-commerce platform skyrocketed. In many countries and regions, TikTok has become the application with the highest user usage time. Statistics show that American TikTok users spend an average of 100 minutes on video every day, compared with 36 minutes for Twitter, 30 minutes for Facebook, 29 minutes for Instagram, and 34 minutes for Snapchat.
Why should you use tiktok for marketing?
TikTok marketing is when brands and sellers market products, services, and brands to users on TikTok. There are also many purposes of marketing, some are to sell goods, some are to promote the brand. Why you should use tiktok for marketing? In tiktok, every video has a chance to break out. In 2023, following the internal testing of the US store, the Spanish and Brazilian stores have started internal testing. Chinese cross-border brand Skintificid's monthly GMV is nearly 10 million US dollars. The FastData Research Institute predicts that by the end of 2023, TikTok Southeast Asian e-commerce will exceed US$100 million in a single day, TikTok Shop will add sites in 12 countries, and the first year of globalization of live e-commerce will begin. Now. it's not too late to join TikTok business.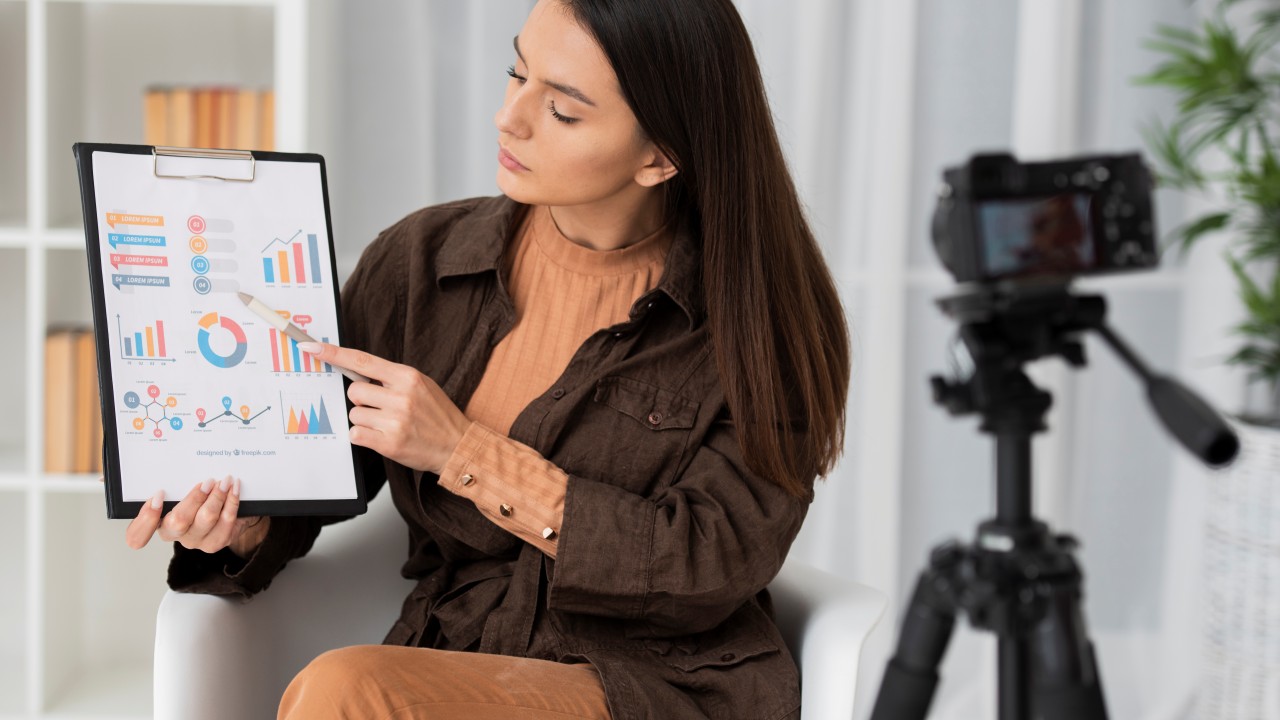 TikTok marketing strategy for TikTok sellers & brands
1. Create TikTok Account
Dowload TikTok from App store

Open TikTok,

Tap profile in the bottom right

Enter your email or phone number to Sign Up

After signing up your TikTok account, it's time for you to to go for TikTok marketing.
2. Join TikTok Influencer Marketing
Unlike Youtube, TikTok mainly focuses on short videos ranging from 30 seconds to 1 minute. During the epidemic, many people were isolated and worked at home. They had more time to join the Internet, and also produced a large number of influencers who created high-quality content and had a large number of fans. Some TikTok influencers launch hashtag challenge to ask more users join their activities. Collabing with TikTok influencers can be a good way to promoting your brand and products. Many brands may got official tiktok accounts, but tiktok influencers sometimes got more followers.
3. Advertise on TikTok
If you want to sell your products in a fast and direct way, try TikTok ads. TikTok ads can be classified into 5 types. You can choose one of the tiktok ads based on your products and industry.
TikTok ads don't need large budget, so it's budget friendly to new users. You may achieve unexpected results with a small advertising budget. And it's easy to create a TikTok video, just with a phone in anywhere, you can get inspiration and shot a video with viral tiktok sounds.
4. Go live on TikTok
Another way to directly make connections with your audience is TikTok livestream. Now there are millions of sellers and influencers join tiktok livestream. the relationship between. Before each live broadcast, you can make an outline and practice it several times in front of the camera. During the relaxed and pleasant interaction with users, you should also express to them the key points you want to output. TikTok has a weekly ranking function, and they can rank according to the data in the live room.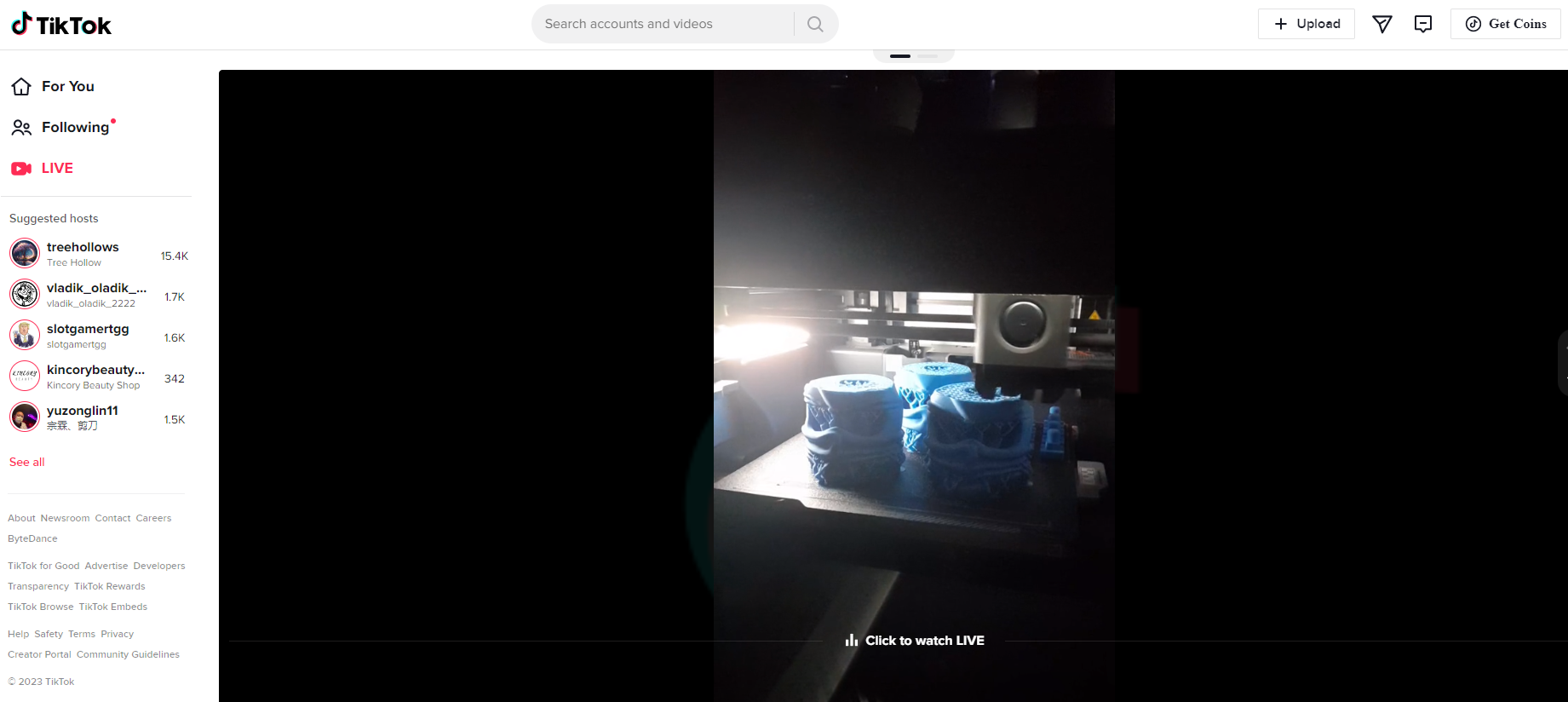 5. Focus on Quality Videos
Content can be the most vital part for your tiktok account, with interesting and charming content, your video can be spread in a viral way thanks to TikTok unique algorithm. There are various methods which can help you boost tiktok followers, including add trending tiktok hashtags, choose hot topic, add viral sounds, etc. If you want to know more about this, you can read "6 Best Ideas to Boost Your TikTik Followers".
6. Check TikTok Status to improve Engagement
You must eager to know how is your tiktok account going. How about the impressions, likes and views of your posted tiktok videos. Metrics such as follower count, likes, comments, shares need to be noticed. However, for TikTok analytics, we need to go deeper, we should pay attention to monthly follower growth rate, views, comments, likes, shares, engagement rates, etc. You must head to tiktok tracker as well as influencer marketing tools. Try Shoplus, a free TikTok tracker, provide all-round data analysis, especially focusing on tiktok e-commerce data analysis assistant tiktok small and medium sellers. You can view free TikTok analytics of tiktok trending products, influencers, tiktok ads, tiktok live stream, etc.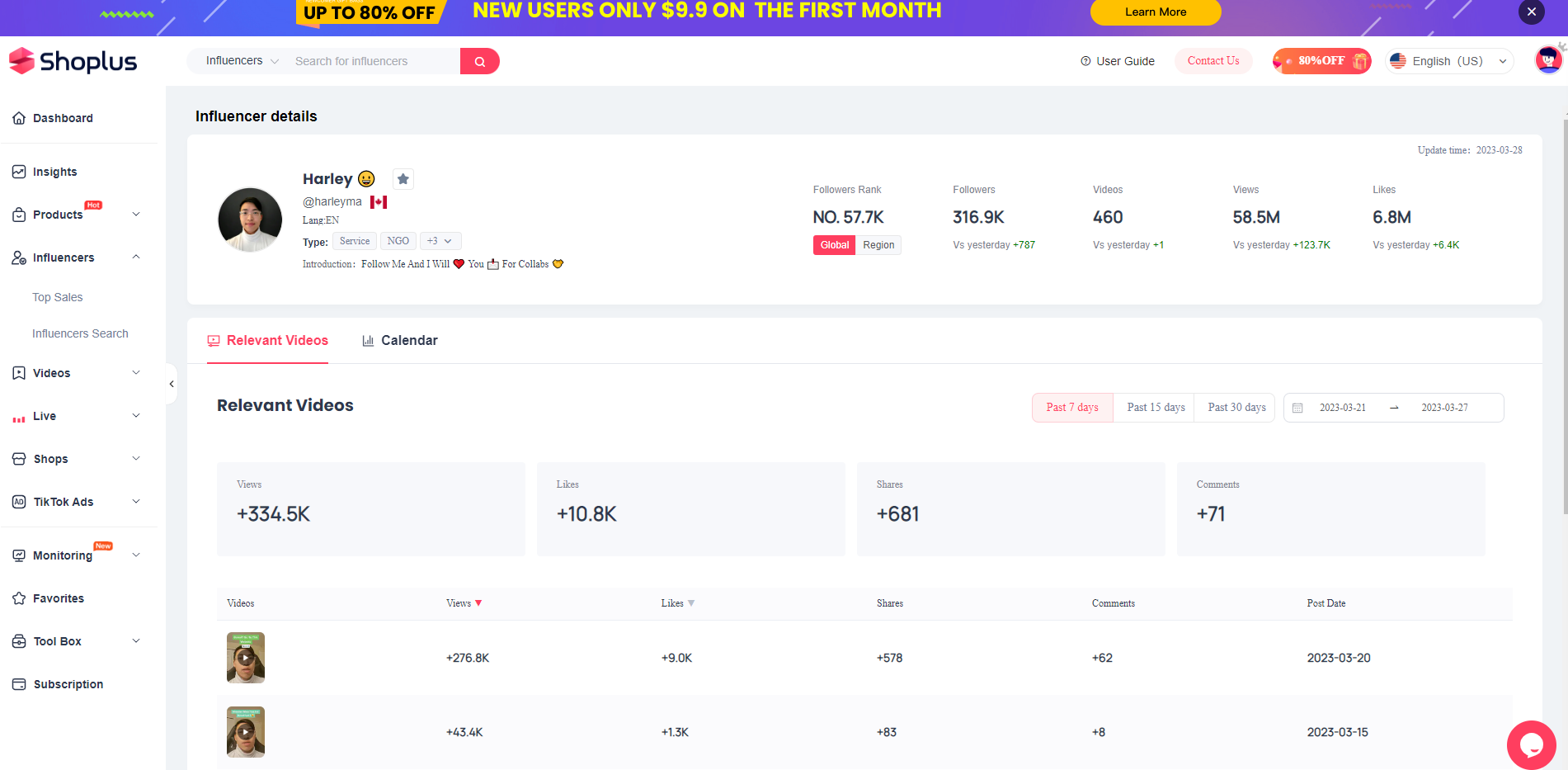 Data Source: Shoplus
7. Master TikTok trends
"For You" page is a very popular function of TikTok. You will be pushed the most popular video at the moment. Get to know what is viral on tiktok, and see if it can be combined with your products. Use trending tiktok hashtags are necessary when you make viral TikTok videos. With these tiktok hashtags, your video will be pushed into precise audiences. You can also try hashtag challenge to promote your brand in an easy and interesting way!