Social media is one of the most important channels for brand marketing, especially the epidemic has caused explosive growth in the traffic of various social media around the world.
TikTok is one of the newer social media platforms that has exploded recently. Described as a Twitter and Instagram mashup, the app allows its 1 billion monthly active users to create short-form, music-focused videos. While TikTok shares many similarities with popular social media platforms like Facebook and Instagram, unlike other platforms, TikTok uses a unique discovery algorithm that gives every video an equal chance of being circulated. This makes the rapid expansion of social media image and rapid brand marketing infinite possibilities. And the TikTok algorithm also supports new creators. Even new users without any creative foundation, as long as you grasp the pain points of users and create attractive content, there are infinite possibilities for success. In short, TikTok will help you increase the exposure of your content and brand, increase the stickiness of customers and brands, and thus buy products from you. TikTok helps companies communicate content in the most natural and authentic way possible. This article is for start-ups and small business owners who want to use TikTok to market their business. If you run a business and decide to market your brand on tiktok, then this article will be of great help to you.
1. Cooperate with tiktok Creators
Cooperating with hot tiktok influencers would be the most choice of many sellers. Hot influencers have huge followers, they can promote your brand or products with their impact.
However, with so many tiktok influencers, you can only benefit from a TikTok creator if you partner with the right people — and that might not be the user with the most followers. You can analyze the followers of the influencer that you want to cooperate with. Luickly, there is one free tiktok analytics tracker can help you solve this problem. Shopplus-all in one tiktok analytics tool, list all break out influencers for you in various countries and industries. It also provides tiktok follower analytics of the influencers.
2. Keep Real and interact with commenters
There are a large number of creators creating a variety of content on TikTok every day. In order for the content to be loved by everyone, it is very important to keep real. Try to make the content of your video interesting and attractive, highlight the key points in the first 5 seconds, and let users get what you want to express. Customers do not need promotional videos, so that users can obtain effective product information while enjoying themselves. So before doing TikTok marketing, you need to confirm the positioning of the content. Once your tiktok content forms a fixed style, it will quickly attract users' attention and bring unexpected consequences to brand marketing. In addition, maintaining interaction with users is also a very important part of tiktok marketing. In the process of interacting with users, the "participation" of users can be improved, and it can also allow enterprises to better understand the needs of users.
3. Study TikTok trends
TikTok relies on data-centric algorithms to decide what content is likely to attract an engaged audience. To improve platform user retention, TikTok supports tiktok users with popular sounds, hashtags, and effects. On TikTok, the "For You" page is a great resource, showing a range of current trends and allowing you to see how other creators interpret them. You can find content from users around the world and easily see how many times a trend has been used so far. Like the explore pages of other popular social media platforms, the TikTok trending feature is a key method of account discovery, helping users find trending videos from accounts they haven't followed yet. Keeping up with hot trends can make your tiktok marketing have unexpected effects. As the most welcome tiktok analytics tracker, Shoplus can also provide comprehensive tiktok trends including tiktok hashtags, tiktok songs, tiktok videos, etc.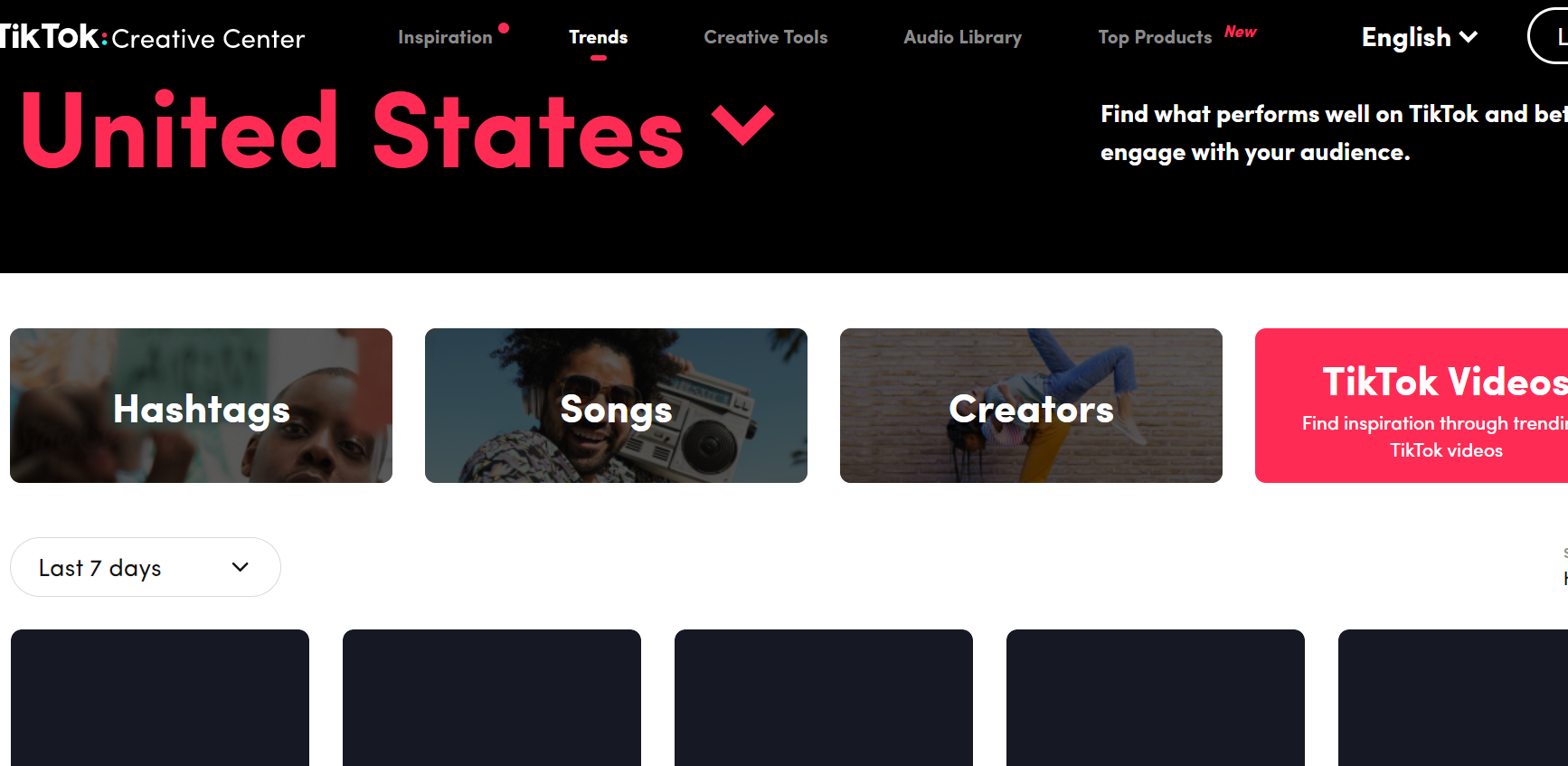 4. Viral TikTok sounds
TikTok's algorithm recommends videos with viral sounds. By incorporating popular audio, you are more likely to appear in more users' FYPs. Other than that, people who really like the sound will click on the audio and use it to watch more videos. If you choose your audio strategically, potential buyers in your target demographic may discover you and become interested in your product or service. If you want to know more about tiktok sounds, you can read "5 Ways to Track Trending TikTok Sounds".
5. Trending TikTok hashtags
Use trending hashtags can help the TikTok algorithm categorize your content and direct interested users to your account. This can lead to greater engagement, boosting your brand's engagement on social media through likes, shares, comments and new followers. To search for hashtags on TikTok, open the TikTok app and tap "Discover" at the bottom of the screen. This page will display video previews with popular hashtags. Or you can use Shopplus-a tiktok tracker- for free hashtag analytics. With Shopplus, you can see break out tiktok hashtags or search specific hashtag to view its likes and views.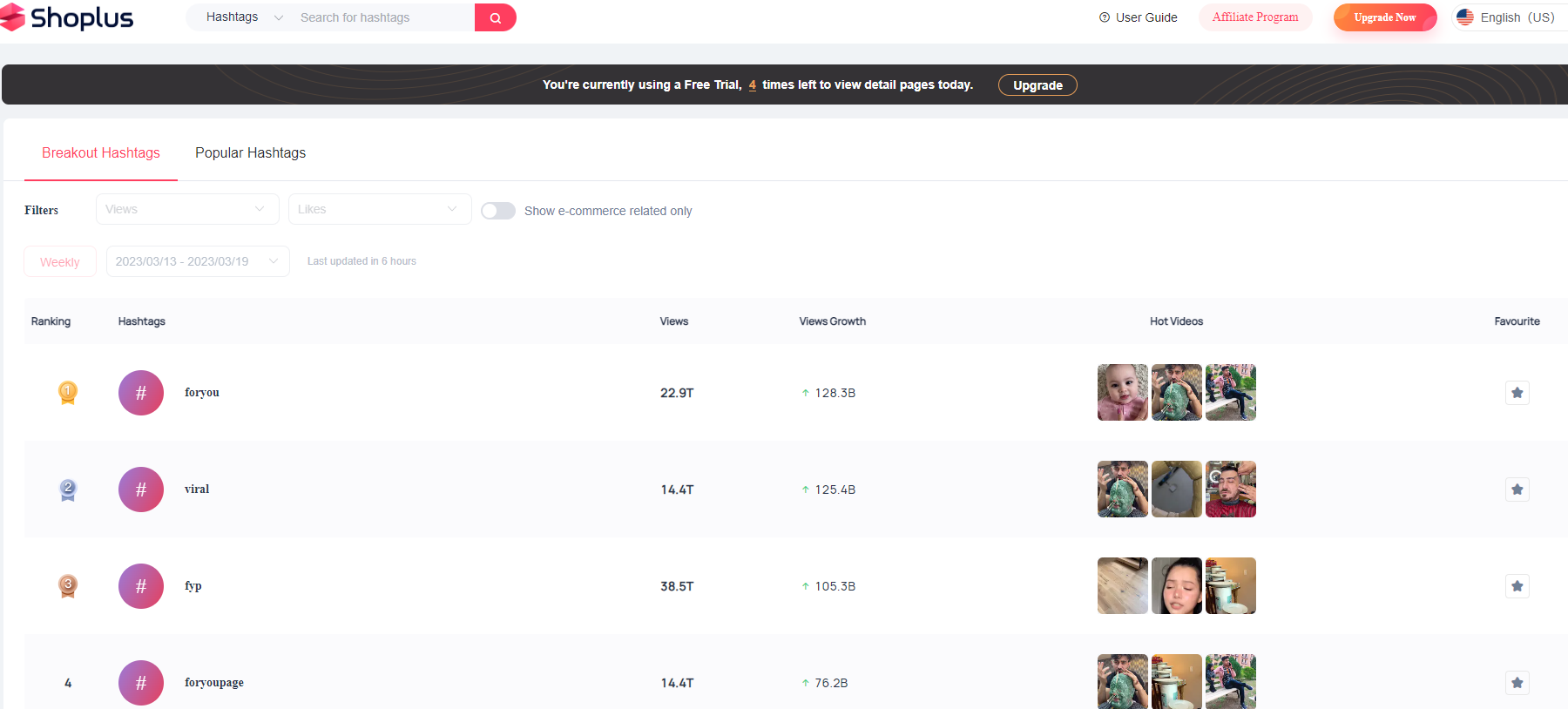 6. Launch TikTok challenges
One of the best ways to get more followers on TikTok is to use hashtag challenges. These challenges are often initiated by other creators and can go viral within hours. By participating in trending challenges, you can increase your visibility and attract more followers to your profile. Or you can also find a hashtag that suits you, create your own tiktok hashtag challenge and invite your customers to join. This way is a great way to encourage your target audience to interact with your brand to create content, which may end up giving your brand to great exposure. Once your audience finds the challenge interesting, it goes viral globally, putting your brand in front of many new potential customers.