Tikmeta rebrands to become Shoplus. This all-in-one TikTok data analytics tool provides ranking lists for sounds, videos, hashtags, influencers, LIVE streams, products, and shops. LIVE streams and shops are newly launched features. Real-time monitoring, comprehensive analysis, and rich database are the three core characteristics of Shoplus. This make Shoplus stand out from other TikTok analytics viewers.
It was launched to meet the emerging need for TikTokers and brands. This ultimate analytics tool is dedicated to TikTok only. Unlike many other analytics tools, most of them are not specialized in TikTok, but in general social analysis. They contain only basic hashtags and profile analysis for TikTok. Compared to other TikTok analytics tool, Shoplus is easy to use and significantly improve the depth of TikTok insights. It's all-in-one, which means no need to switch tools. You can find all solutions in one place. It helps brands and influencers to optimize their video strategy and discover product potential. Find more information at Shoplus.net
It's necessary to use third-party TikTok analytics tool to remain competitive in such a creative, fast-changing social media platform. However, not much of professional TikTok analytics trackers are available in the market. Brands and influencers need to browse several tools to fulfill their needs, that is inconvenient and time wasting. A lack of real-time data and insights are relatively common. This makes it hard for TikTokers and brands to enhance their performance accurately.
It's a smart strategy to make a presence on TikTok, especially since your target audience is mostly Gen Z and younger millennials. By understanding their wants, needs and desires, so that they're more likely to engage. With the launch of Shoplus, it may be your best TikTok analytics tool to use in 2023! Continue reading to learn more about this helpful tool and step on the road to TikTok success.
At its core, it provides the necessary analytics to help influencers and brands stay on the right track and make conscious decisions based on reliable data. If a TikToker is looking for more content inspiration. It saves them the manual effort of browsing related hashtags, popular sounds, trending videos, etc. If a brand wants to grow its business or a seller is seeking the opportunity to start their own business on TikTok. It gives you product selection based on the sales volume of TikTok e-commerce and a detailed influencer profile search.
Key Features:
Discover product potential. It analyses the product trends of different categories based on hourly-updated data on TikTok. So you can maximize product profit potential and craft your product strategy more efficiently.

To optimize your video strategy. To unlock advanced content metrics for videos, sounds, and hashtags that make it easy to grow your audiences.

Gain competitor insights. View comprehensive data on influencer performance and engagement, and keep track of what strategies your competitors are currently using.
In the analysis of TikTok's e-commerce product selection, Shoplus can be summarized into three characteristics: real-time monitoring, comprehensive analysis, and rich data. Based on the comprehensive data of TikTok e-commerce, it provides sellers and KOLs with complete TikTok data analytics of industries and competitors on TikTok, to gain more exposure and plan their next move.
Real-time monitoring, one step ahead of the best sellers.
Many third-party analytic tools have a 48-hour time frame. Their data is not real-time and the update speed is relatively lagging. Trends are changing fast on TikTok, and are very likely to change after 48 hours. It won't meet the needs of whom require real-time monitoring of products trend. TikTok ads are updated every hour on Shoplus, and the best-selling product list and the Top sales influencer are updated every 6 hours. It prevents missing the timing to find products with profit potential and helps the selling journey easier.
Comprehensive analysis=Succesful business decisions.
Shoplus has achieved layer-by-layer drilling and decoding in the data dimension, assisting sellers in making accurate decisions. On the product side, Shoplus provides analysis in different dimensions, such as overall sales, sales trends, number of views & likes, related influencers, and related videos. Explore more on Shoplus.net now. Brands can have a general perspective of the sales situation and product prospects. It saves time for product comparison and evaluation.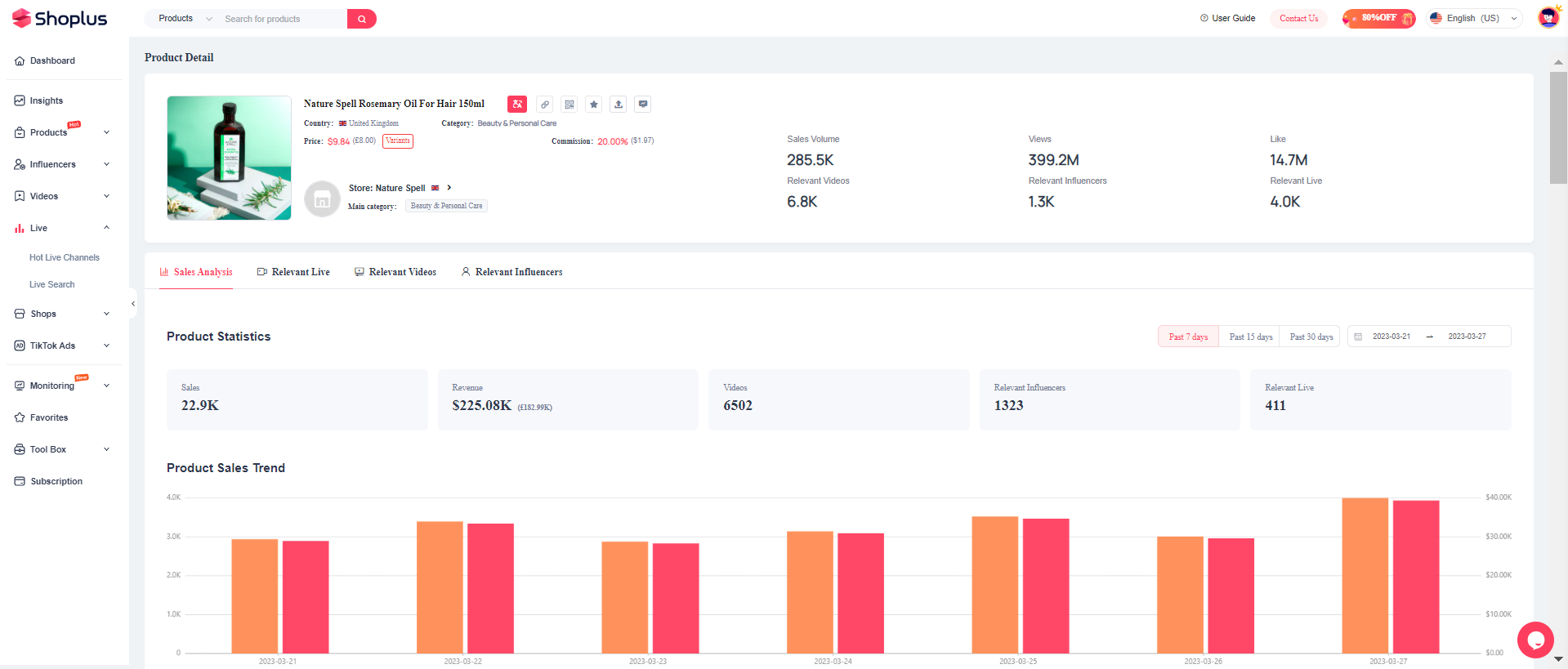 On the influencer side, Shoplus demonstrate data in dimensions such as estimated sales, relevant products, relevant videos, and basic analysis. It is convenient for sellers to find their preferred influencers and carry out large-scale distribution.

In the ad library, sellers can filter ads according to different countries and regions. For each advertisement placed, Shoplus provides data dimensions such as impression, growth rate, and ad strategy. At the same time, you can drill down to analyze the daily ad impressions and evaluate the popularity of the creative.
Rich TikTok data
Rich data is important in providing more in-depth insights to predict overall performance. Shoplus has three times more product data than any similar tools. It contains more than 90 million product data from 6 countries (United Kingdom, Indonesia, Thailand, Vietnam, Philippines, and Malaysia).
It's available for a Free trial! Don't miss it while the promotion remains. There are different plans to meet your needs, select the plan that is most suitable for you and start your TikTok success today!
About Shoplus
Shoplus is formerly known as Tikmeta. It's TikTok analytics tracker designed to help users analyze the characteristics of TikTok creators and offer multi-dimensional data analysis. It constantly explores the relationship between videos and talents to discover potential products through audience needs. With comprehensive TikTok data analysis and visual presentation, you can be informed of trends and discover product potential more easily.