With over 1 billion monthly active users and growing, TikTok is probably the most well-known social media app for short and viral videos. In china , Douyin which is a Chinese TikTok has been very popular for users to purchase products. The same as TikTok, more and more users tend to purchase products on TikTok shops, which can help sellers reach millions of potential customers and generate sales for your business
TikTok makes shopping instant and fun. With TikTok, millions of sellers can sell products directly to the customers. If you sell products, TikTok Shopping provides a way for users to buy directly on the platform. Kylie Jenner's shop, Kylie Cosmetics, was one of the first to let customers shop directly on TikTok. This makes sense to them, as they have nearly 52.2 million TikTok followers. Jenner observed at the time,"I've built my business on social media; it's where my fans first look for new products from Kylie Cosmetics. I have so much fun making TikTok videos, I love sharing my fans using the products That's why I'm so excited that Kylie Cosmetics is one of the first to let customers shop directly on our TikTok!" If you want to learn how to sell on TikTok, then you need to read this guide.
How to set up TikTok shopping?
1. Set up TikTok business account
Download TikTok from App store
Find Profile icon in the botton menu
Click "Sign Up" to register and choose "Business Account"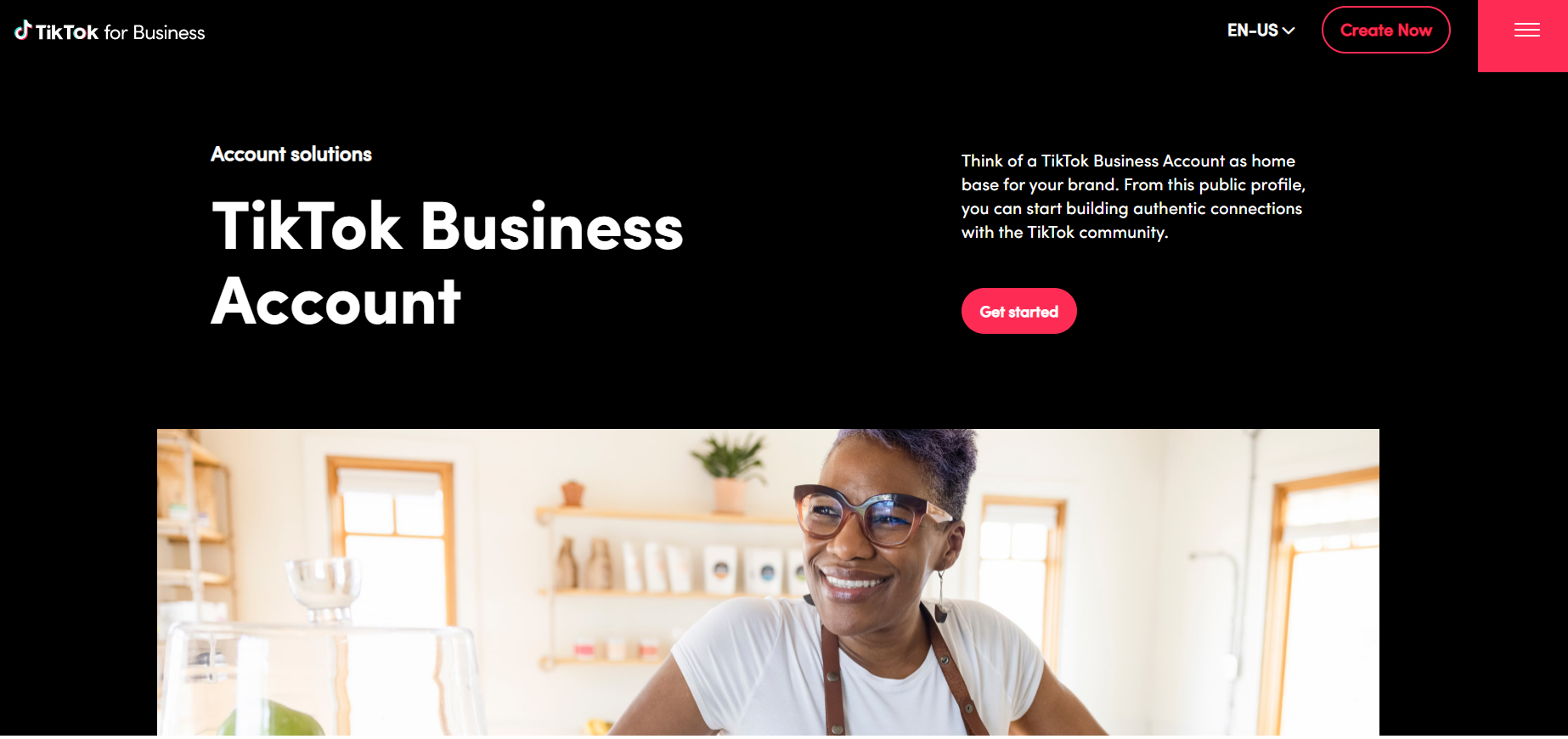 2. Introduce your business
TikTok bio is what people look at first when visiting your page. It's the best chance for you to introduce your brand, and leave good impressions. Please introduce your brand in details with precise keywords, but remember to keep it short. As you know, long story made people boring.
3. Choose trending products to sell on TikTok
The main user groups of TikTok are millennials and Gen Z-ers. In the United States, teenagers account for a quarter of the total users of TikTok in the United States. But TikTok also has a large number of users who are between 30 and 50 years old, so the age distribution of TikTok's user group is very wide. Before deciding what products you want to sell on TikTok, you need to fully understand TikTok's local user group and product market-this determines whether you are profitable. If you want to know detailed product information, you may try a free TikTok analytics tracker-Shoplus. Shopplus offer all tiktok analytics including sellers, creators, tiktok ads, live stream, tiktok shop, etc. Use Shopplus, you can see top sales products details, such as price, commission, sales, revenue, etc.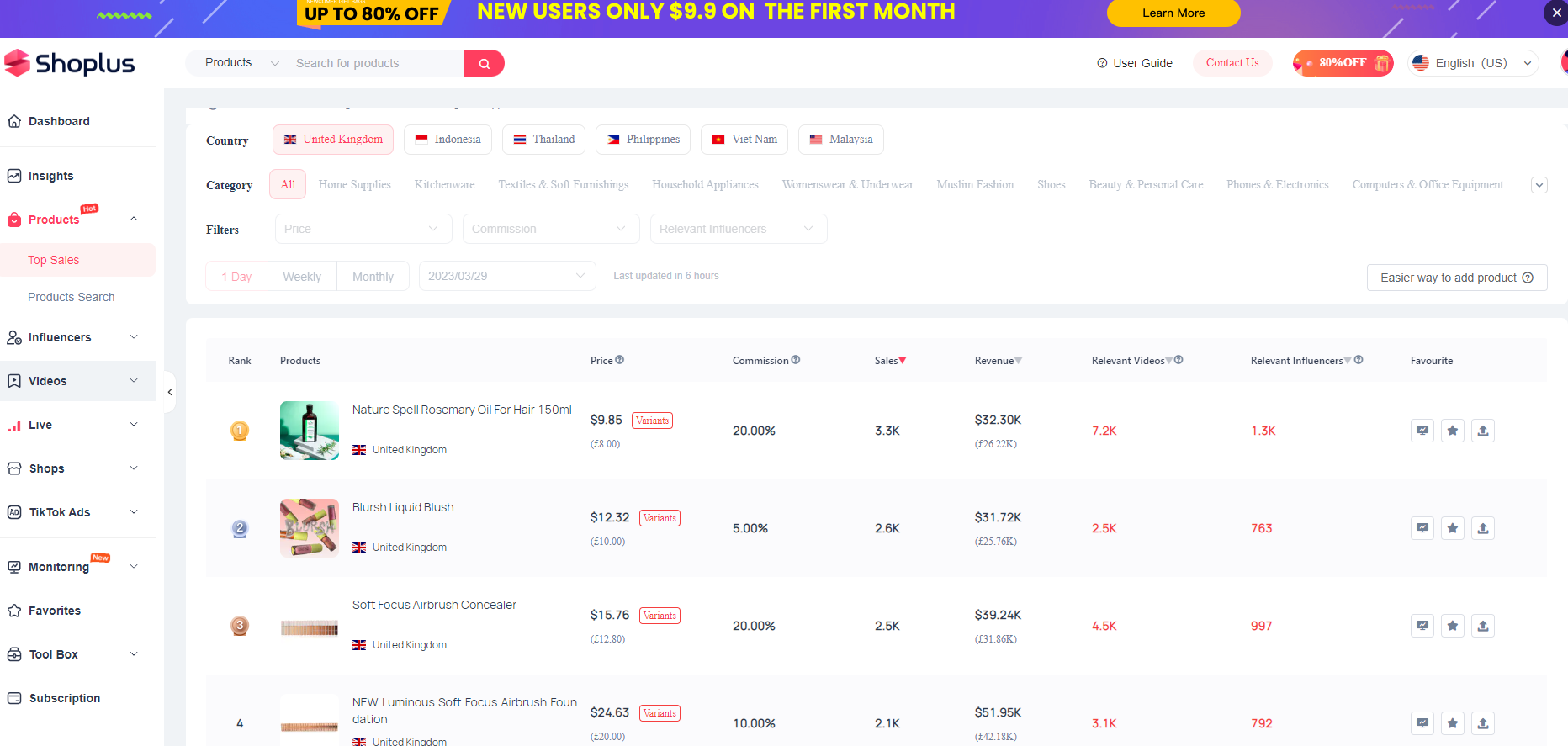 Data Source: Shoplus
4. Optimize your product catalog
TikTok shop is in the shopping tab of your profile. You need to optimize your TIkTok product catalogue, please pay attention to keep the product cover beautiful and consistent, so that customers will be attracted in the first time. At the same time, you can also create your own brand characteristics. For example, use eye catch product pictures and attractive product titles.
5. Combine your online store with TikTok
When a business sets up TikTok Shopping, there will be a dedicated "Shopping" tab in the profile. Customers can then browse and select products in TikTok, then jump to the company's online store to purchase products at checkout. TikTok Shop can integrate products on platforms such as Square, Ecwid, PrestaShop, Bigecommerce, SHOPLINE, etc. These platforms should have an app or plugin that will allow you to upload your product catalog directly to your TikTok store. Selling on TikTok Shop will be difficult if you don't have a compatible eCommerce platform. TikTok will display your online store in another tab next to your profile content. You can even sync product catalogs to create a mini storefront that links directly to your online store for checkout.
6. Open Your TikTok Shop instead of using third party online stores
TikTok Shop is different from TikTok Shopping. TikTok Shopping is what we often call a shopping cart function. It needs to jump to off-site shopping. It is a semi-closed-loop e-commerce model. Connected online stores include Square, Ecwid, PrestaShop, Bigecommerce, SHOPLINE, etc. TikTok shop is a fully closed-loop Tiktok shopping model, where all aspects of consumer shopping are completed within the Tiktok software. The countries currently supported by TikTok shop are UK, Indonesia, Malaysia, Thailand, Vietnam, Philippines, Singapore. If you are in countries that we mentioned above, you can try to open a TikTok shop to sell trending products.
Step1: After sign up with a TikTok account, enter into the TikTok seller center, you need to fill out warehouse address, country/region, street address, name of contact person, return address, phone number, post code, etc.
Step 2: Verify your documents and enter a Shop name.
Step3: Bind Bank Account