TikTok has taken the social media world by storm, becoming the fastest-growing social media platform in the world. With approx 800 million active users globally, TikTok enables brands to tap into a vast audience and engage with them in new and exciting ways. As the platform continues to explode in popularity, more and more brands are posting TikToks and collaborating with TikTok creators. This leaves brands wondering how best to track and analyze the results.
TikTok Tools & Metrics
There are numerous metrics available to measure your TikTok campaigns, including engagement rate, follower growth, and video views. These metrics can help you better understand your brand's audience, refine your content, and improve your overall performance on the platform.
If you have a business account on TikTok, you can access TikTok Analytics to track your performance data. This tool provides insights into your account's engagement, audience demographics, and video performance. You can use this information to optimize your content strategy and increase your reach.
However, if you're looking for more specific influencer data, an influencer marketing platform can give you even more insight. These influencer marketing platforms, like Shoplus, can help you identify top-performing influencers on TikTok, track their engagement rates, and analyze their audience demographics.
With Shoplus, you can explore content and see important metrics for any creator or brand on TikTok, whether you are already working with them or not. as well as your own account.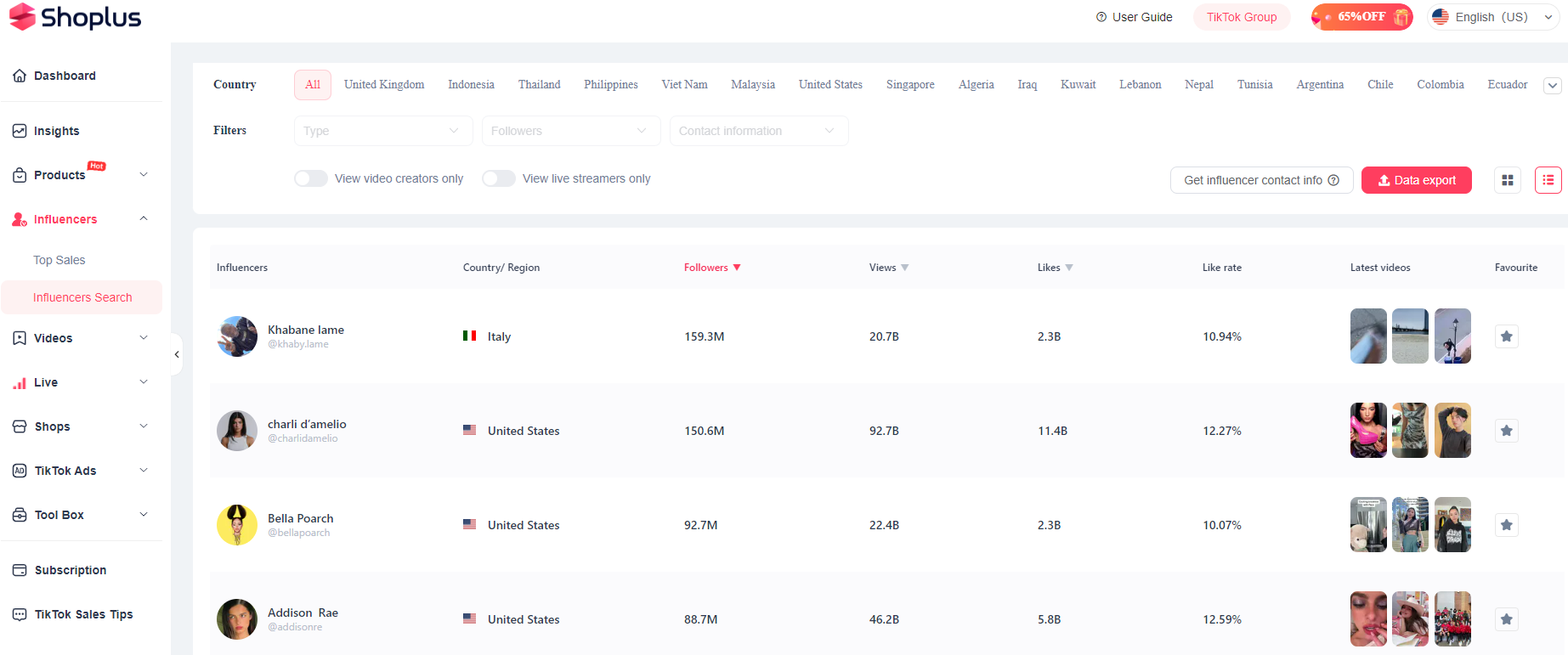 How to use TikTok Analytics?
1.Switch to TikTok Pro Account
To use TikTok's data analysis function, you should first upgrade the default PA account to a Pro account. Similar to Instagram's profile, TikTok's Pro account also has the advantage of allowing brands and creators to monitor their audience and content.
The specific steps are: first click on the three dots in the upper right corner of the profile, then select "Manage my account" and click on "Pro account". Finally, select your account type and brand category. Once set up, TikTok's regular account will be converted to a Pro account.
2.Learn to View TikTok Analytics
From switching to a TikTok Pro account, TikTok's backend will start displaying data analysis, which can be viewed on a computer or mobile device.
To view on a computer, simply click on TikTok Analytics on the desktop, hover over "Profile" to display a small window, and click again to view the analysis. To view on a mobile device, click on the three dots in the upper right corner of "Profile" to access the "Settings and Privacy" option, and then click on "Analytics" in the "Account" section to view the data analysis.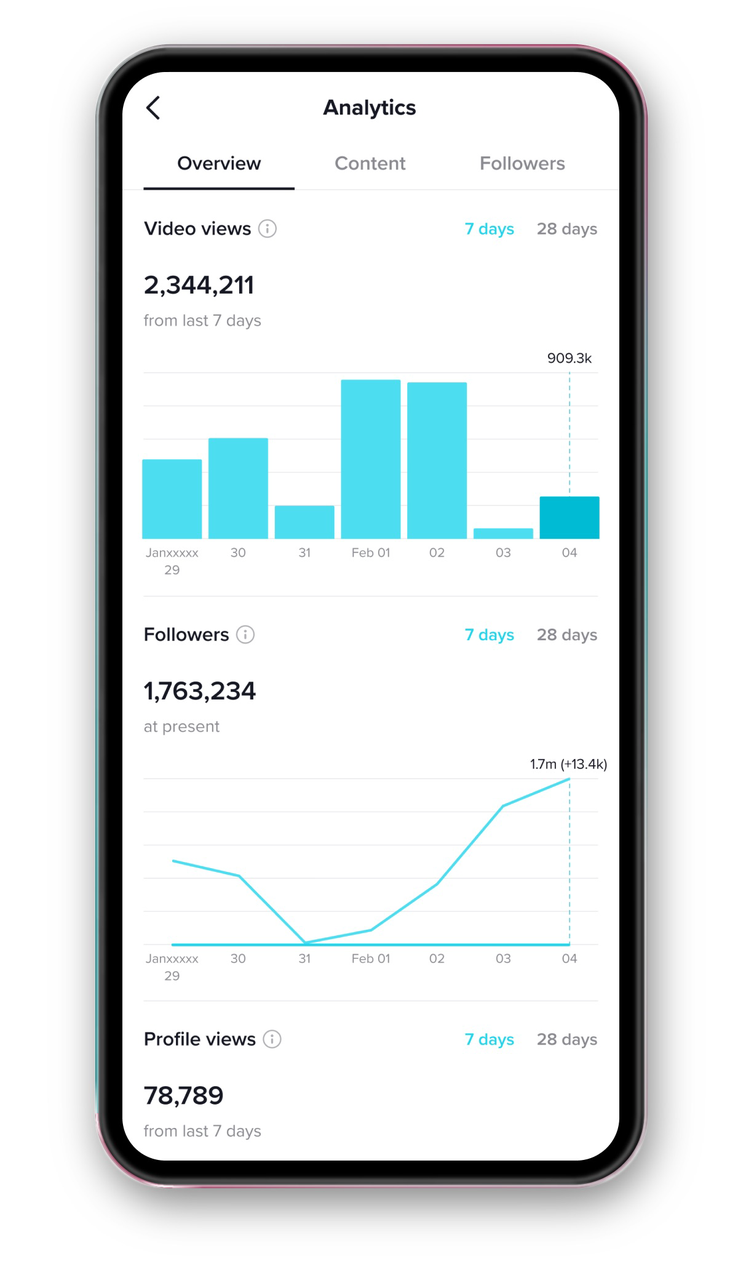 3.Common Metrics for Data Analysis
On the "Analytics" page, we generally see three metrics: Profile Overview, Content Data Analysis, and Fan Data Analysis. These metrics allow us to know the number of likes, comments, growth data of fans, and the number of times the profile has been viewed.
Generally speaking, the longer the account activation time, the more accurate the data analysis.
1) Video Views
The first tab on the "Profile Overview" is the number of video views, which generally represents the total number of videos watched on TikTok.
2) Fan Count
The second tab on the "Profile Overview" is "Fan Data", which usually displays the total number of fans and new followers in the past 7 to 28 days.
3) Profile Views
Click on this data to see the number of times your profile has been viewed in the past 7 to 28 days. Through this data, creators can understand which content is more attractive to users.
4) Total Video Views
Click on "Videos" under "Content Data Analysis" to display all of the creator's videos and view the total number of views in the past 7 days.
5) Trends
Click on "For You" under "Content Data Analysis" to view the cumulative views of created videos and video trends.
It should be noted that video views are counted within a time limit, generally within a week. The popular video section can display data from 7 days ago, which can help us determine trends and create more popular videos.
6) Analyze Individual Videos
If you want to know the specific data of a single video, you need to click on its thumbnail. Then a new page will appear, and you will see various metrics for the video, such as total views, total play time, audience demographics, and traffic sources. Through this data, we can understand the direction of the created content and deepen our understanding of the audience, thereby creating better quality videos.
7) Fan Data Analysis
On this page, click on "Fans" to know your total number of fans; click on "Gender" to understand whether your audience is more male or female; click on "Popular Regions" to know which regions or countries your followers are more inclined to; click on "Fan Activity" to know what time your fans generally watch your videos, which will help you determine the best time to post videos.
8) Tag View
Click on "Tag View" to see how many times the audience has searched for specific topic tags. Through this tag, you can understand the popularity of related topic tags and the frequency of their use.
9) Average Engagement Rate
Generally speaking, the average engagement rate = ((likes + comments) / number of fans) * 100, which can show the popularity of your videos.
10) Total Likes
Click on the "Total Likes" tab to view the total number of likes for all of your video content.Through this metric, you can explain the level of fan appreciation and your video creation ability.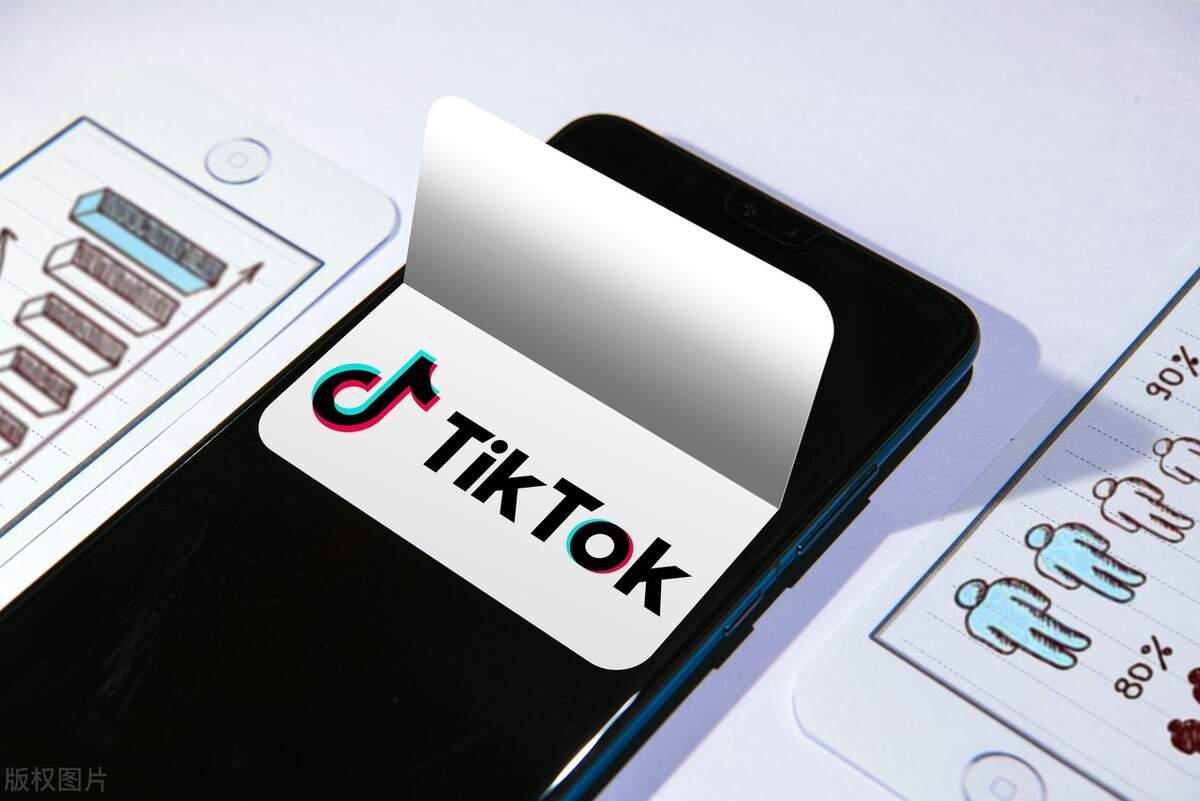 How to obtain TikTok data?
To obtain TikTok data, you need to first have the support of relevant TikTok analytics tools. Different platforms have different advantages, and Shoplus has a significant advantage. Not only can it display the product selection data of thousands of players in TikTok, but it also allows you to compare accounts and view TikTok influencer marketing analytics, TikTok Shop's popular store rankings, TikTok for Business advertising analysis, TikTok Creator analysis, popular bloggers, popular videos, popular topics, popular music, and more.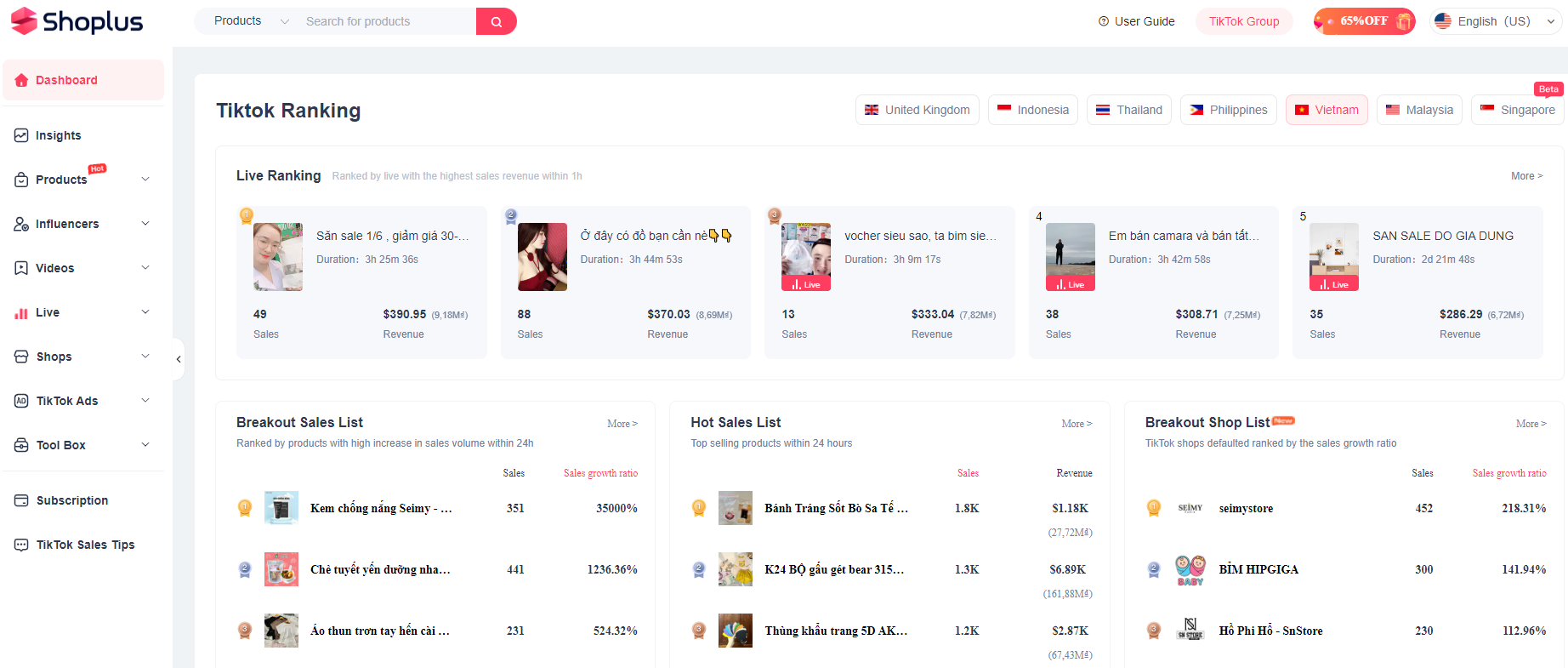 To succeed on TikTok, data analysis is essential. It can help you grow and earn money quickly. We hope these tips are helpful and wish you success!