As a leading short video social platform globally, TikTok has developed rapidly. Data shows that TikTok's global daily active users (DAU) have surpassed 1 billion, far exceeding Facebook and Instagram. At the same time, TikTok has also become the main battlefield for businesses to go global. TikTok provides global businesses with rich overseas traffic resources and more accurate and efficient marketing services. In recent years, more and more businesses and brands have quickly established their influence in overseas markets through TikTok.
So how can influencer marketing help businesses achieve efficient global expansion on TikTok?
What is TikTok Influencer Marketing?
TikTok Influencer Marketing refers to using influencers to advertise on TikTok to attract user attention and convert users. Currently, there are many types of influencers on TikTok, from different regions and age groups, with the most popular types being "food" and "beauty."
For TikTok businesses, the biggest advantage of influencer marketing is the ability to use the platform's various functions to carry out multidimensional advertising. For example:
1. Automatic reply function: Users can directly communicate with influencers without having to operate on third-party websites.
2. Intelligent grouping: Videos are intelligently grouped into multiple groups for advertising.
3. Popular tag recommendations: Users are tagged and pushed according to their interests, habits, and behaviors.
In addition, businesses can also cooperate with influencers to use TikTok's functions to create more types of advertisements.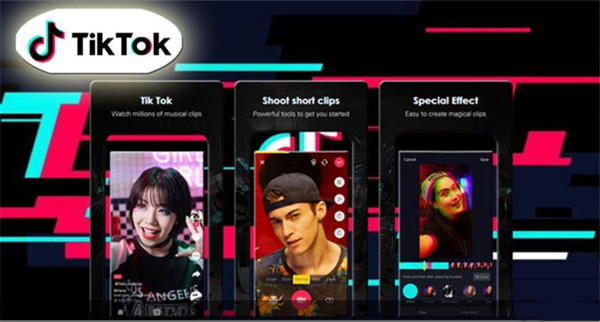 Why Do TikTok Influencer Marketing?
For brands doing cross-border e-commerce, "content" has always been the core, namely product marketing and brand building. By publishing high-quality content on various platforms and interacting with consumers, brand affinity and awareness can be improved.
On TikTok, almost everyone can produce short video content. Secondly, TikTok users prefer to watch interesting and creative videos. For businesses or brands, advertising on TikTok can help attract more users to their brand. For users, watching short videos on the platform can increase their awareness and affinity for the brand.
To attract users and improve brand awareness and affinity, TikTok has formed a complete influencer marketing model.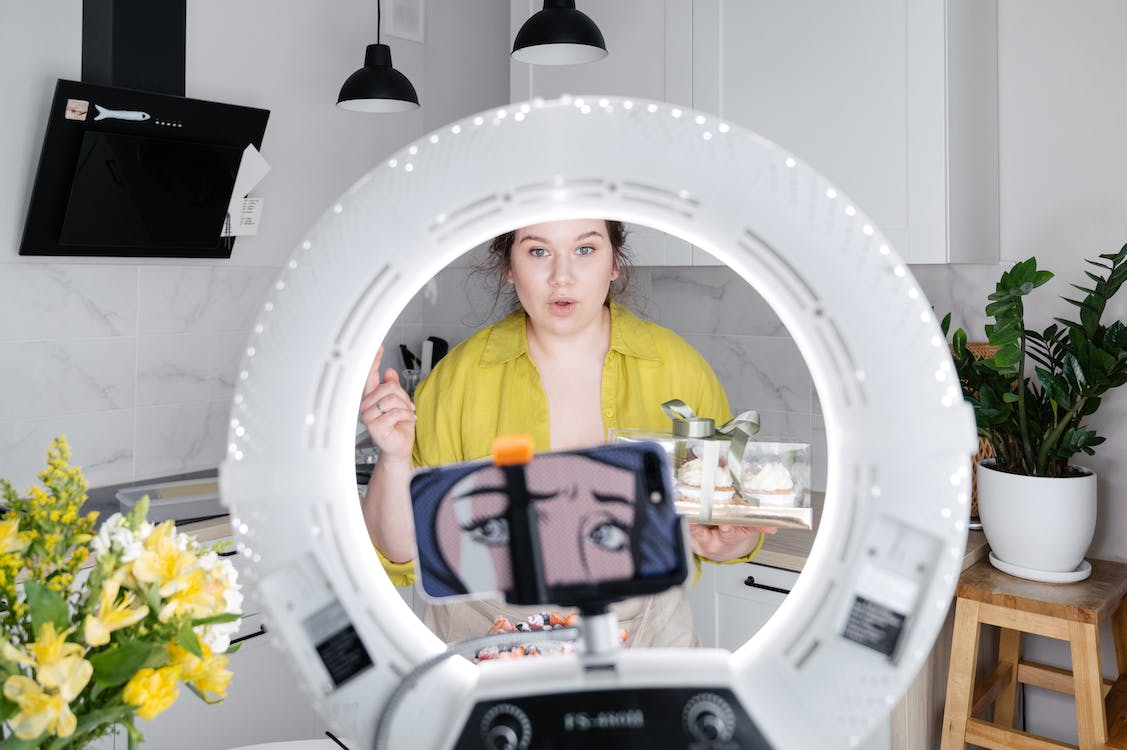 The Advantages of TikTok Influencer Content Creation
Compared to other social platforms, content creation on TikTok is much simpler. On TikTok, many creators only need to enter keywords to search for videos and quickly find users with the same interests, creating high-quality video content. At the same time, the threshold for content creation on TikTok is low, and most creators can earn tens of thousands of dollars per month. Additionally, TikTok is also an ideal platform for international marketing. Collaborating with vertical influencers on TikTok can help businesses produce higher-quality content, which is beneficial for product promotion and sales.
Key Elements of TikTok Influencer Content Creation
In TikTok influencer marketing, content is of utmost importance and is one of the key factors that affect the effectiveness of influencer marketing. Although live streaming sales have strong capabilities, how to effectively deliver this massive content in different regions is also a problem that businesses need to consider. Consumers in different regions have different preferences and needs for products, so to achieve better content marketing results, it is necessary to customize different content based on the target audience. For example, in the European and American markets, they prefer celebrity endorsements of brand products. In the Southeast Asian market, they prefer unique products or products with local cultural characteristics.
For TikTok influencers, they need to create content based on local user habits and cultural backgrounds to produce high-quality content. Therefore, before specific influencer marketing, it is necessary to first understand the local market.
How to Choose Collaborating Influencers for Businesses?
When choosing TikTok influencers, two aspects need to be considered:
(1) Age. Most TikTok users are young people, so when choosing TikTok influencers, the age should not be too old, preferably between 18-35 years old.
(2) Number of fans and likes. The number of fans does not need to be too many, but the number of likes must be high.
When choosing TikTok influencers, businesses can choose influencers that meet their needs based on the number of fans. If you want to find suitable influencers more efficiently, you can try the TikTok analytics tool "Shoplus." On the "Influencer Search" page, you can find rising sales influencers, popular video sales influencers, popular live streaming sales influencers, etc.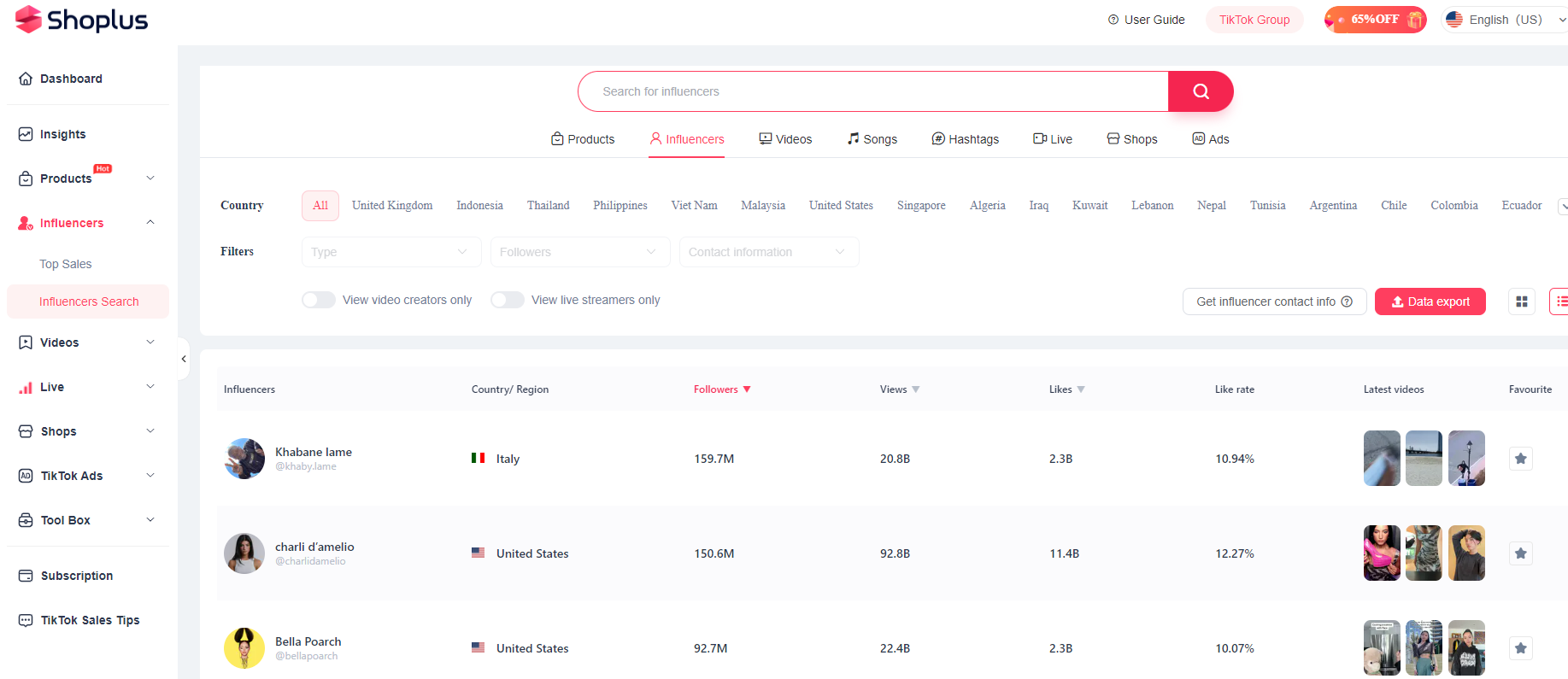 Summary
For international brands and businesses, TikTok influencer marketing can help them quickly gain more overseas users and promote product marketing. However, since the user scale and traffic quality of the TikTok platform are relatively high, businesses and brands also need to have certain requirements for influencers, such as attractive content and account operation capabilities.
In addition, businesses should also prepare in advance, understand the characteristics of their own products and the situation of competitors. Only in this way can better results be achieved in TikTok influencer marketing.