TikTok as one of the popular social media platform, has over 1 billion active users, and its user base is constantly growing and evolving. TikTok's user base is primarily made up of younger demographics, with nearly two-thirds of TikTok's user base being under the age of 35. TikTok users are highly engaged, with each user spending nearly an hour per day on the app.
For brands, TikTok has become a popular platform for reaching younger audiences and engaging with their followers. TikTok is used by many brands to share branded content, launch new products, and connect with their followers. TikTok has also launched its own advertising and shopping feature, allowing brands to create and share sponsored content with TikTok users, as well as users to make purchases without leaving the app. This has opened up new opportunities for brands to reach wider and larger and more engaged audiences while driving sales.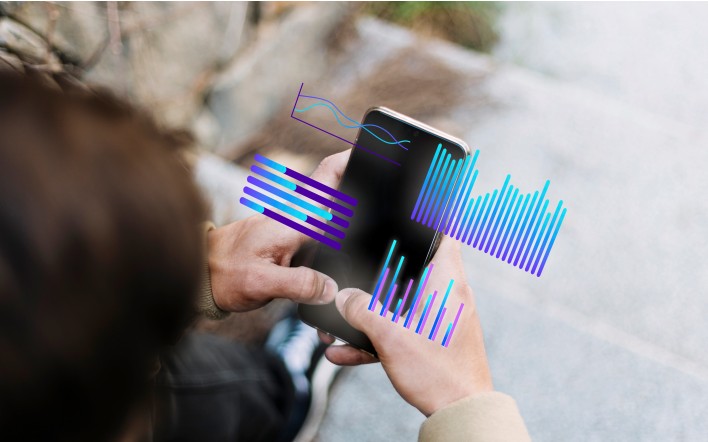 Why is it useful to track and analyze competitors in TikTok?
TikTok brand competition is becoming increasingly intense as the platform grows in popularity. This situation has made it incredibly hard for brands to stand out from the crowd.
Monitoring the competition is crucial. Remember to keep an eye on the competition at all times. You can use competitor analysis to uncover opportunities and identify failures and see how you perform against competitors in the market.
TikTok competitor analysis refers to the process through which a brand examines how their competitors perform on TikTok and identifies their strengthTikTok trending productss and weaknesses. Additionally, by analyzing your competitors, you will be able to see how you can improve your own strategy. For instance, when you check what your competitors are posting on TikTok manually, you can develop an optimized plan for the content you're planning to create by taking a look at what they are doing and how they are performing.
A key step toward building your brand's online presence is creating a TikTok marketing strategy. However, visibility does not ensure a successful brand presence. For a brand to succeed on platforms like TikTok, a close and ongoing monitor on its competitors is useful.
Keep a close eye on the competition by following the advice provided below.
1.

Determine your competitors
If you're a TikTok seller, you may want to look at TikTok shops that have the same products or service as yours. You can easily accomplish this by utilizing a third-party TikTok analytics tracker, such as Shoplus. Shoplus provides TikTok shop ranking lists based on daily, weekly, and monthly rankings. Our users can optimize the search result with numerous factors, such as country, category, sales volume, etc.

If you're a content creator, you may want to look at the Top content creator lists for your category. Similar to other Shoplus features, our customers will obtain ranking lists and also can optimize their searches by adding different filters.

2.

Track

key

metrics
There are several metrics that can be useful to track when monitoring TikTok competitors. These metrics can show you how your opponents are performing and point out areas where your TikTok strategy could be improved. The key metrics to track include:
1) Follower count: The popularity of their content and audience engagement can be determined by looking at this metric.
2) Engagement rate: This metric reveals the number of likes, comments, and shares a competitor's posts have received. It can reveal information about their audience's level of interest and how well their content is received by TikTok users .
3) Video views: Views are calculated according to how many times a video is viewed by TikTok users. You can use it to determine how popular their content is and how well it performs.
3.

Research & evaluate their content
You can discover what kinds of videos resonate with your audience, what hashtags they're using, and what trends they're leveraging by analyzing your competitors' content. This insight can help you stay ahead of the curve and create content that is relevant and engaging for your target audience.
It can also assist you in identifying potential collaboration and partnership opportunities. By analyzing the content of your competitors, you can identify influencers or brands who are already engaging with your target audience and may be interested in collaboration or partnerships.
4.

Watch for collaborations
Be aware of any collaborations or partnerships your competitors may be involved in. It is a wise step for any business to keep an eye out for competitors' creative and inspiring social media campaigns. Collaborations, in particular, as you will be inspired by User Generated Content and discover superb collaboration opportunities. It is important to watch for their collaboration, as you may be able to determine which influencers or brands your target audience prefers.
There is an easy way to do so, you can utilize Shoplus to find relevant influencers that work with your competitors.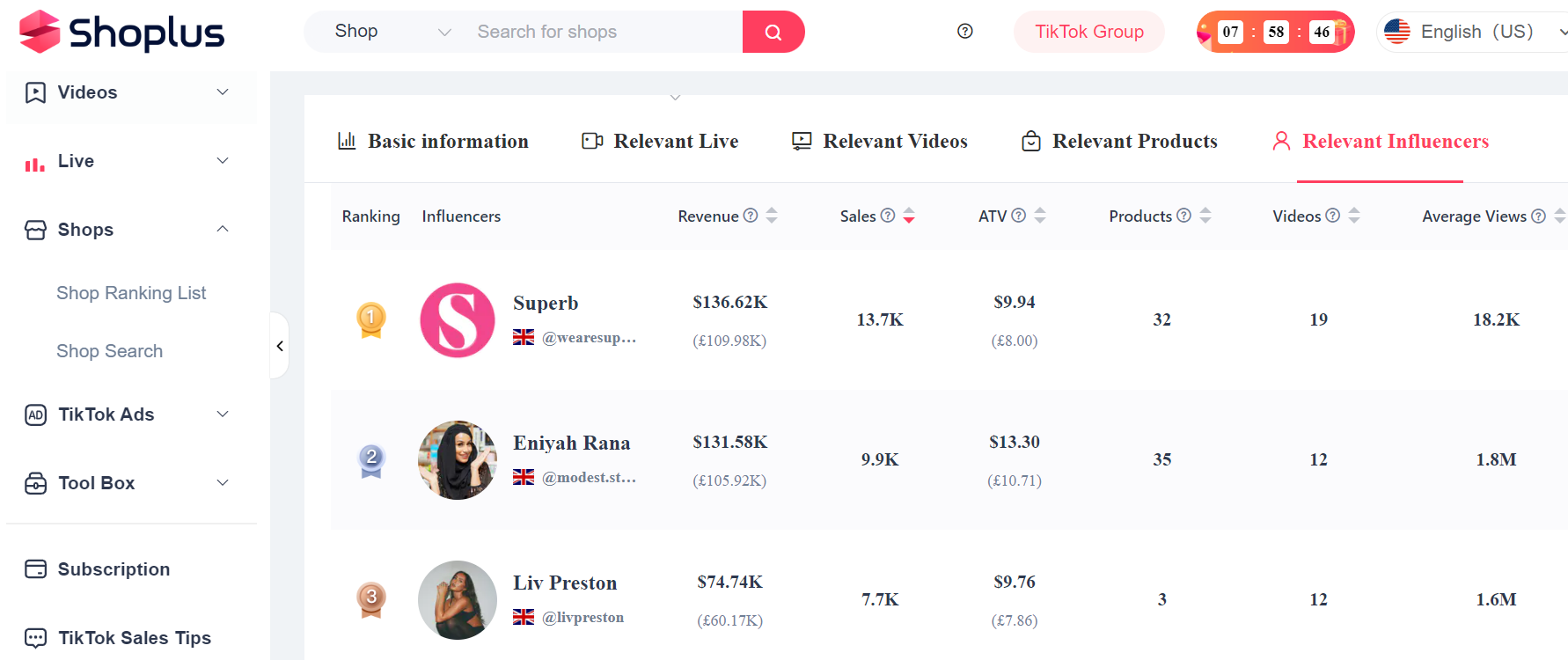 5.

Monitor your competitors on Shoplus
Monitoring TikTok competitors is a vital part of developing an effective TikTok strategy. Keep track of your competitors' engagement metrics, such as likes, comments, and shares. With our TikTok analytics tool, you may obtain not only their essential stats but also their posting calendar.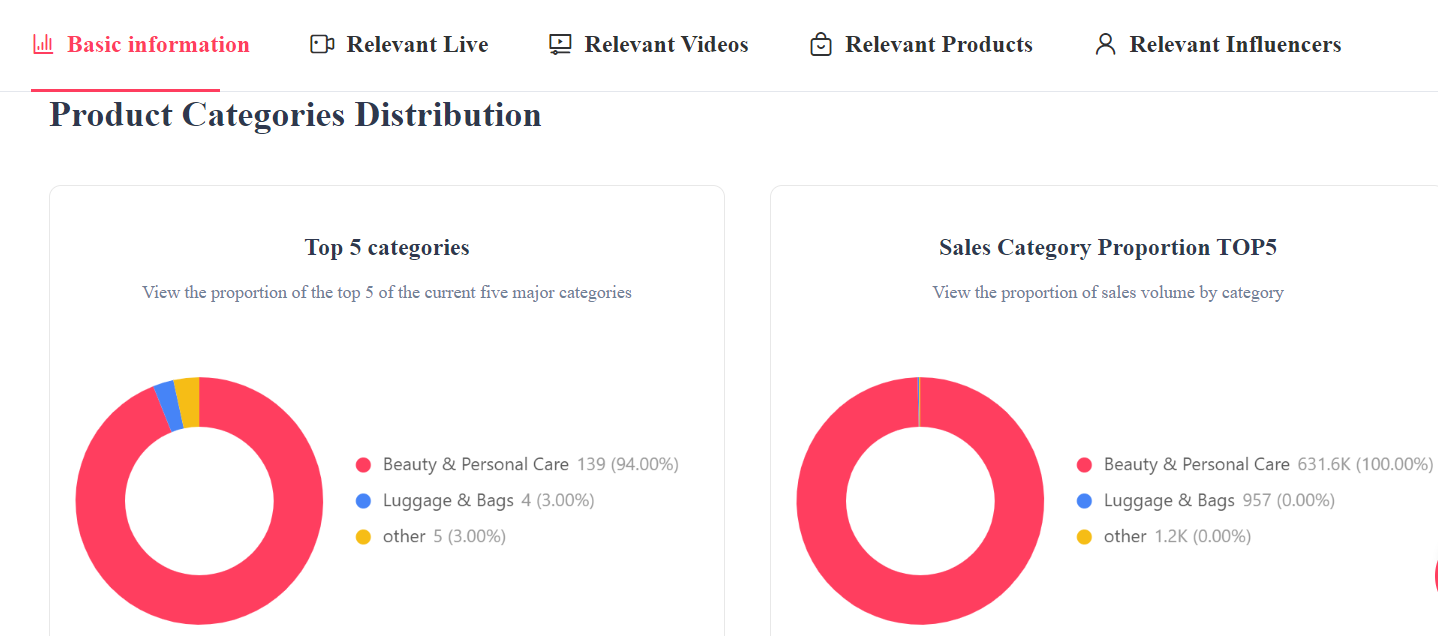 If they have a TikTok shop, our users can also search for their shop name to get detailed information about sales statistics, product category distribution, and the influencers they collaborated with as well as the products they sell.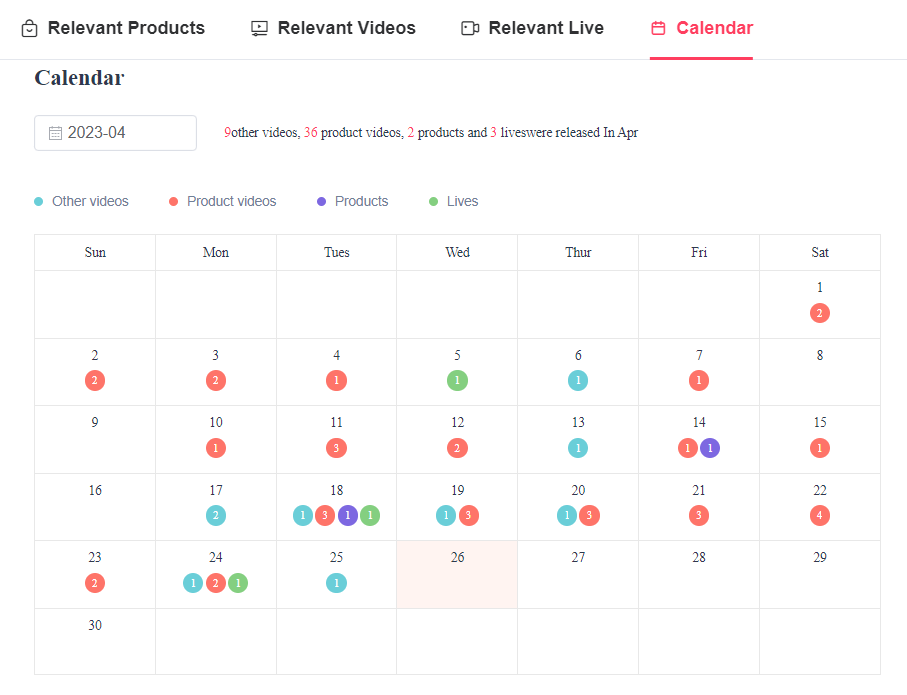 Furthermore, as a TikTok seller, Shoplus is a great product selection tool for finding TikTok trending products, allowing you to stay one step ahead of your competition.