An effective way to reach a specific group of people with a branding message is through influencer marketing. It may be a capable promoting strategy for brands or businesses to reach a more extensive gathering of people and discover modern clients. The survey conducted by Influencer Marketing Hub in 2023, shows that a significant 90% of marketers believe that influencer marketing is worth it, and over 70% of marketers agree that it is effective to reach high-quality audiences. Additionally, there is much evidence to prove that influencer marketing is one of the most effective methods to connect with the younger age group. If you're eager to reach younger audiences, then it is hard to reach through traditional media channels. As younger audiences are mostly addicted to social media, brands or agencies should make digital efforts to reach the tech-savvy group.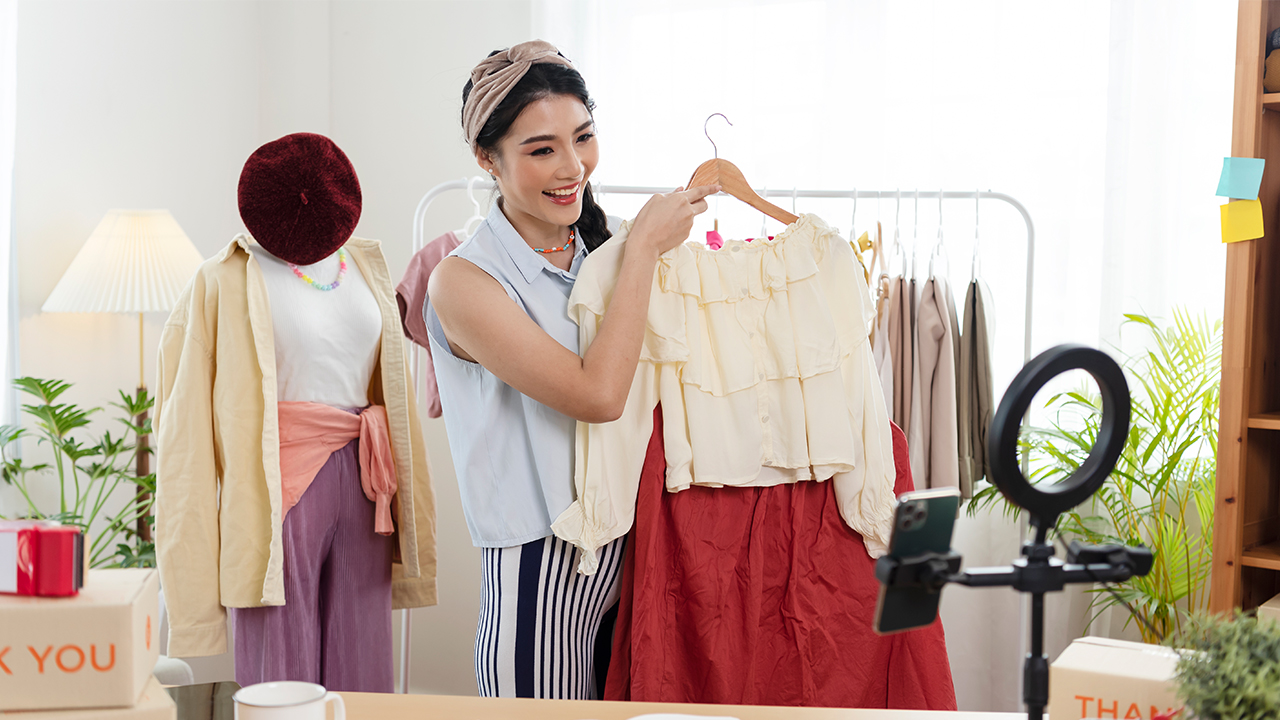 What is TikTok influencer marketing?
TikTok was the most downloaded social media platforms in the year 2022 and has more than 1 billion active monthly users. It is an emerging social media platform that offers a unique opportunity for brands to reach Gen Z consumers. With the growth in both scale and diversity of TikTok communities, TikTok is no longer exclusive to the younger generation but has emerged for everyone. As the app is rooted in user-generated content and authenticity, it shows a huge opportunity for TikTok influencer marketing as well. Among all of the social media platforms, TikTok's uniqueness has attracted plenty of content creators to the platform, they make short-form TikTok videos, but they have the chance to go viral even with a small fan base. As long as they follow the latest TikTok trends, use trending TikTok hashtags, and sounds, and be creative! You can keep track of hot TikTok product trends, popular hashtags, and popular music with a free influencer marketing tool, such as Shoplus. Shoplus is a free-to-use TikTok analytics tool for brands, agencies, businesses, and influencers. It enables users to get multi-dimensional analyses on influencer insights, product selection, and more. It's basically an all-in-one TikTok analytics tracker.
How TikTok influencer marketing works?
Due to the TikTok algorithm, you can go viral even with a small budget. Running an influencer marketing campaign on TikTok is just like running it on any other social media platform, but without paying top dollar. It is the process of having a partnership with TkTok content creators to make short-form videos to deliver branding messages to their audiences. You may also want to include any branded hashtags for the influencer marketing campaign. If a brand has an official account on TikTok, Influencer generated content often proves to have higher engagement than that of an official account. Advertising through TikTok influencers avoids content being too "advertising", and leverages the marketing power of social proof and brand trust. Data shows that almost 40% of TikTok users have made purchases because of influencers. It's worth launching such a marketing campaign on TikTok to raise brand awareness and reach potential customers.
How to find the right influencer?
Try to run an influencer marketing campaign and not sure where to start? Then, finding the right TikTok influencer is important to the overall marketing result. Brands and businesses are hard to measure whether the influencer is suitable to the brand through the basic engagement statistics that provided on TikTok. Therefore, third-party influencer marketing tools are needed to monitor and compare influencer's engagement metrics and marketing performance. There are plenty of tools are available on the market, paid and free. Brands can choose based on their needs. I would like to introduce you a free tool, it's an ultimate TikTok analytics viewer as well as influencer marketing tool for TikTok. Users can discover potential influencers by checking the ranking lists. Shoplus provides three types of ranking list, including Breakout Influencers, Top Video Creators, and Top Live Streamers. The following shows the definitions of each ranking list. You can choose one to get started.
- Breakout Influencers: Ranked by influencers with the highest Sales growth ratio.
- Top Video Creators: Influencers who make video content ranked by the highest sales volume.
Top Live Streamers: Live streamers defaulted ranked by the highest sales volume. Data updates after live streaming ends.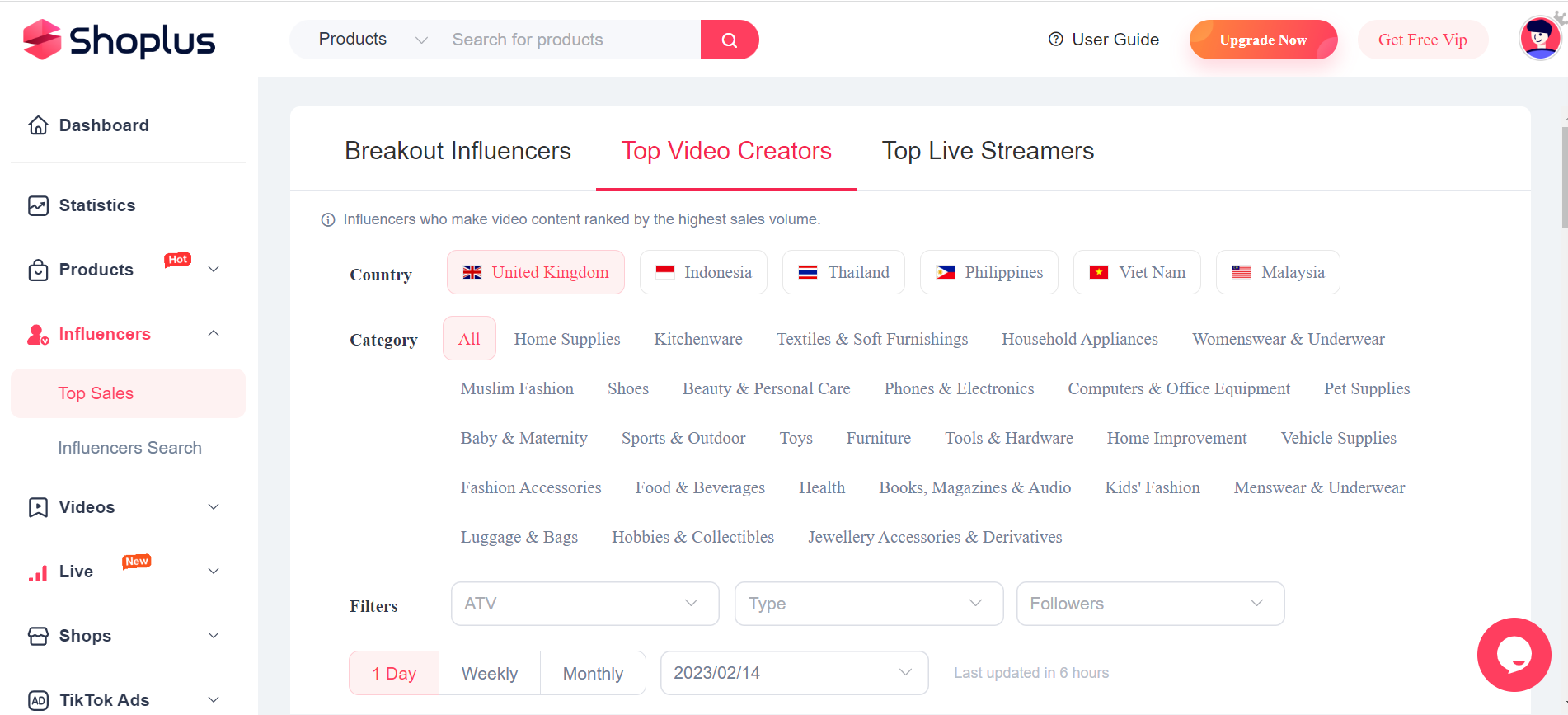 Once you find preferred TikTok influencers, you can click "add to favorites" for later. Or click on the profile for more information, apart from the engagement analysis of their every single post, but also to get their posting frequency, sales metrics, products they promoted, and more.
It's also important to find influencers that share the same niche, so more accurate targeting. Try to search through trending, industry-related hashtags for potential influencers. Trending TikTok hashtags helps you to uncover viral videos and to browse content ideas. Take a look at the profiles of videos that appear in the Top Posts of a specific hashtag on TikTok to find relevant influencers. Additionally, users can track and monitor influencer's marketing performance with an influencer marketing tool, which goes beyond profile engagement analytics, audience insights, and more. You can use a tool like Shoplus to track hashtags and sort results based on how many engagements or likes they received.