TikTok has seen phenomenal user growth since its launch in 2016, and with over 3.2 billion total downloads and over 1.4 billion active users, it has become one of the most popular social media platforms globally and is redefining what we know social media. TikTok is famous for viral spread due to its unique and advanced content rendering algorithm. Although TikTok was originally a platform that provided entertainment such as music and dance, but with the development of the platform and the needs of market development in recent years. Now many influencers,brands and businesses are active on this platform. As a social media platform based on huge user database, it provides huge opportunities for TikTok influencers. If you want to promote your brand or interact more with TikTok influencers. There are more things you need to know.
What is TikTok influencer marketing?
TikTok marketing influencer is the process of collaborating with content creators to create TikTok videos to promote your brand. Advertising through influencers allows brands to avoid being pitchmen, tapping into the deep marketing power of social validation and brand trust. Some big brands have opted to create their own TikTok accounts and post content to promote their brands. But for many small brands or individual sellers, they don't have enough energy and resources to run their own accounts. 40% users choose to purchase the products largely due to brand influences. TikTok influencers marketing meet the demand of the market,and help millions of small brands and sellers to optimize their business opportunities.
Benefits of TikTok Influencer Marketing
1. Unlimited Organic traffic search
It's the best time for brands to join TikTok influencers marketing. TikTok's brand ecosystem has evolved over the years since the project began, its content-marketing model and algorithms have been updated, most of the kinks have been fixed, and it has a healthy user base. But it's still young, still in the golden age of social media.
We saw the same thing when Twitter first launched -- these social media platforms offer huge organic. They want success to bring new users to the platform. Currently, TikTok is trying to build a community of content creators, the idea being that as creators build an audience on TikTok, they will become more committed to the platform and stick with it. Until TikTok reaches its inevitable content saturation point, every brand's marketing strategy should embrace TikTok as a platform. You will be rewarded for it.
2. Increase product sales
TikTok influencers help brands or sellers increase their product sales through video ads or live stream. Brands usually offer cost-effective discount to buyers for promoting brand awareness. Indonesian furniture brand KintaKun partnered with influencers for exactly this reason — using custom discount codes to drive sales. When users see the videos shot by TikTok influencers, they will be willing to choose the products and brands recommended by their favorite Internet celebrities under the premise of trust. The key to connection.
Choosing TikTok influencer marketing is helpful for effective promotion of products, so brands can reach cooperation with influencers that match their own products, and use the influence of online celebrities to promote products
3. Expand publicity and build brand awareness
Help your product/brand reach more audiences. By partnering with the right influencers, you can attract followers who may not have heard of your product or brand. When influencers promote your product or brand, what they say adds credibility. This is because their followers trust them and are more likely to believe that what they say is true.
4. Ai content strategy
Constantly creating fresh and engaging content is no easy feat. Whether you're running out of inspiration or just don't have the budget for large-scale content production. TikTok influencers can help you complete your content strategy. Collaborating with creators usually hires content creators and video editors to develop new content and is more budget-friendly. TikTok influencers are experts to create attractive content. Find influencers with huge followers and cooperate with them, your brand will be known for more and more people.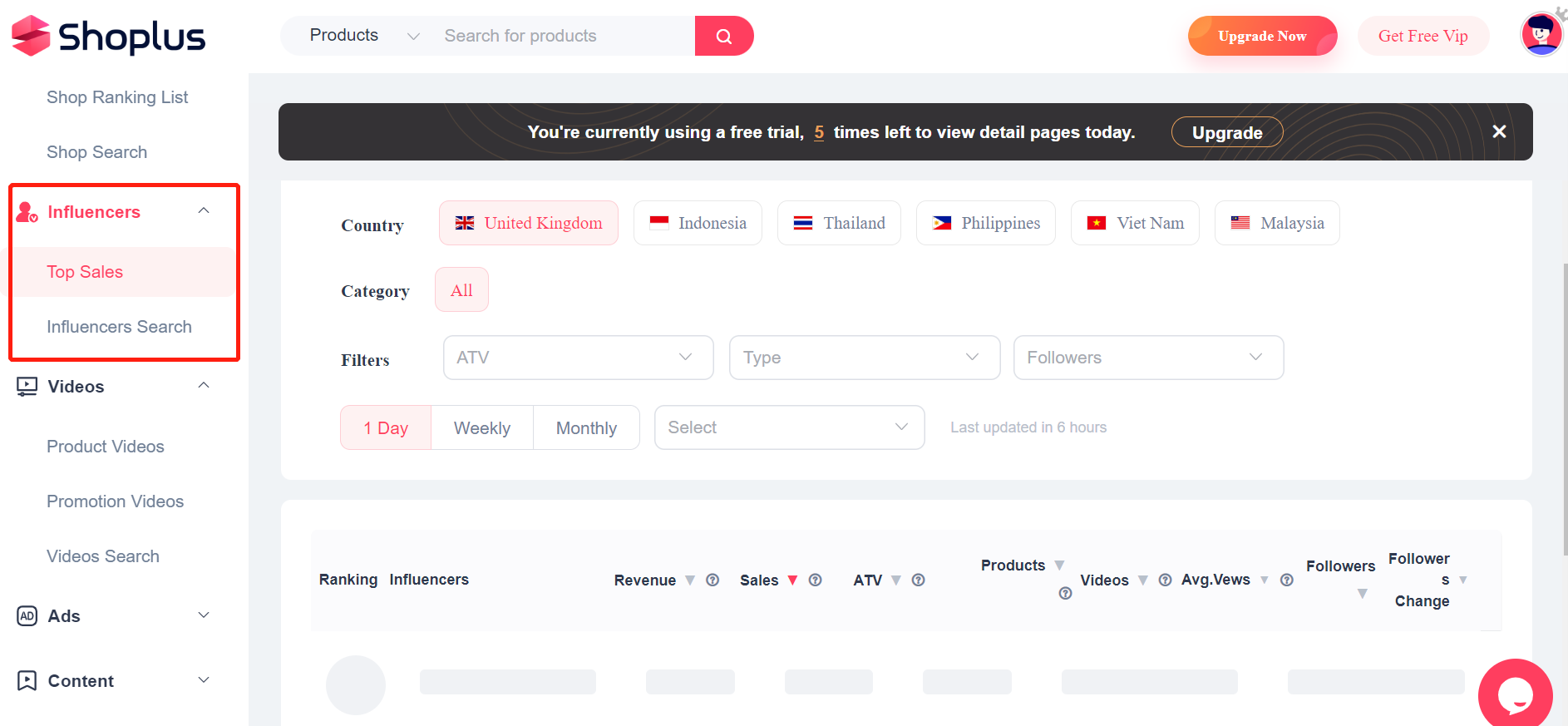 With so many benefits, if you are brands or sellers have no way to promote, TikTok influencer marketing can be your best strategy. Using influencer marketing tools can be the most easy way for you to choose appropriate TikTok influencers. Shoplus, as the best free TikTok analytics tool can help you find the TikTok influencers you need by filters such as country, followers, industry, average transction value,etc. Try this free influencer marketing tool, you can find what you need!