TikTok is a social media app focused on short videos. Although it was only launched in 2017, it is one of the fastest growing applications in the world, far surpassing the old large social media such as Facebook and Ins. TikTok allows users to create and share videos between 15 and 60 seconds in length, and the app has tons of crazy songs, sound effects, and filters to enhance videos and make them more engaging. You can find all kinds of videos on TikTok, funny videos, dance videos, beauty videos and more. TikTok was the most engaging social media app, with an average session length of 10.85 minutes, twice as long as the second-placed Pinterest at 5.06 minutes. In 2019, 68 billion hours were spent on TikTok. More and more people become TikTok influencers, take this as their part time or full time job due to considerable income. TikTok creators have as many as 100 million followers and earn as much as $5 million a year. Popular content categories are Entertainment, Dance, Prank, Fitness/Sports, and DIY. If you are eager to become a tiktok influencer, we have summarized useful tips here in this article for your reference.
Understand TikTok viral algorithm
The TikTok algorithm is a recommendation system that determines which videos will appear on your For You page. The TikTok For You page is a personalized, scrollable feed of content. It's TikTok's main content discovery tool, known for its fine-tuned algorithm that generates accurate recommendations based on each user's actions on TikTok. When you open TikTok and go to the For You feed, you'll see streams curated based on your interests, making it easy to find your favorite content and creators. This feed is powered by a recommendation system that provides each user with content that may be of interest to that particular user. Part of the magic of TikTok is that there's no one feed that works for you — while different people may see some of the same great videos, everyone's feed is unique and tailored to that particular individual. TikTok determines the topic from the following aspects: keywords, titles, hashtags, content and voice, etc. If you are a TikTok newcomer, don't worry at all, the TikTok algorithm supports the creation of newcomers. As long as you insist on creating original, novel and unique content, newcomers will have the opportunity to be recommended by the platform.
Optimize your TikTok profile
Optimizing your profile would be your first step to become an influencer. A detailed tiktok profile would let your followers know more about you. Here we list some tips to notice when you optimize your profile, take them as a reference.
Set a charming display name, a memorable name attracts your followers in a short time.
Fullfill your bio, if you have other social media platforms such as Ins, Facebook, or website, you can lead your followers to visit your other channels.
Optimize text on your TikTok bio, the bios has 80 words limit, keep the content short and clear. Let people know what you focus in short words.
Use your linkin bio, which make your tiktok feed a clickable landing page. You can drive traffic to your official website.
Choose the right profile picture, which represents your business or brand.
Pick your niche and be unique
Finding your niche is the first step to becoming a TikTok influencer. Choosing a subject that interests you can guarantee that you'll continue to produce quality material. You can gain more followers by possessing a particular level of knowledge in a relevant topic. In other words, your audience will be more specialized in one area, and your followers will be more devoted. Here are some things to think about before deciding on your area of expertise for your TikTok videos: Will you eventually produce information on this subject? Do you primarily update your videos to address the issues of others? What type of problem does your video solve for others, is it a relationship problem or a workplace problem or a life skill?
Identify your audience
Who will watch your tiktok video When finding your audience on TikTok, it's important to stop thinking about "who" your audience is and start thinking about what content they are interested in. Connecting with a group of people who share beliefs and ideas can make it quicker and easier to build a loyal following. In addition, to confirm the ideal audience, you need to know what value you can bring to users. It is possible to gain an in-depth understanding of the needs, preferences, and behavioral habits of user groups.
Get to know your competitors
After selecting the field you are interested and identify your audience, you can get to analyze your competitors. Shoplus is a popular TikTok analytics tool that puts analytics front and center, providing deeper insights and more advanced reporting than its rivals. It also features customizable dashboards and easy-to-read graphs that help you understand your metrics.
Use trending tiktok hashtags
You can reach more people by using trending hashtags, but there is more competition. Employ hashtags with your target audience in mind to increase views while also expanding your reach. Both less competitive and more popular hashtags are acceptable. Don't overuse tiktok hashtags; use them appropriately. You can't increase your tiktok views by using too many hashtags. Every video, limit the number of pertinent hashtags you use. Alternately, you can establish a hashtag challenge and ask some of your followers or users from your target audience to participate.
Analyze trending TikTok videos
To create quality and attractive videos, you must know what is going viral on tiktok now. You need to master tiktok trends to get more views. Shoplua is a tiktok analytics app, providing multi-dimensitional analytics to tiktok sellers, tiktok influencers. You can view tiktok ads performance and strategy of your competitors. Using Shoplus, you can not only get tiktok analytics free, but also see insights of TikTok ecommerce trending, see revenue sales of trending tiktok products.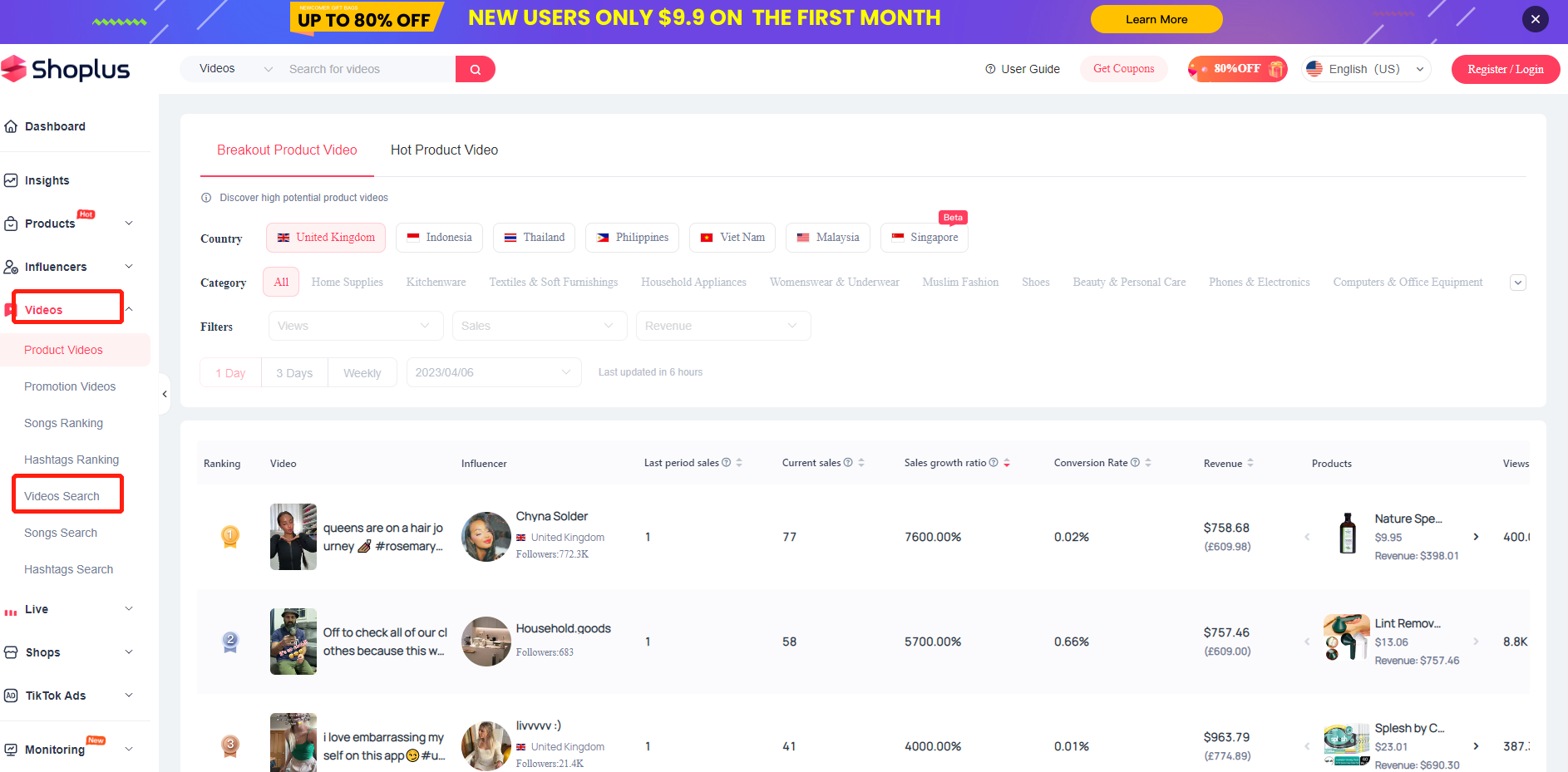 Conclusion
TikTok is a worthy social media platform to join, more and more sellers and brands choose tiktok influencer marketing. If you are eager to share your daily life to global audience or want to earn money by becoming a tiktok influencer, the above tips can be your reference. Try Shoplus to get free TikTok analytics may solve you lots of trouble when you are new to this platform.