TikTok has continued to grow since its initial launch in 2016, and it now has the highest engagement rate among the top social media platforms. TikTok has a nearly 6% engagement rate, while Instagram, Facebook, and Twitter have 0.8%, 0.13%, and 0.05%, respectively. As a result of the platform's high engagement rate, content creators as well as brands are rushing to utilize this platform to its full potential.
If you're not on TikTok yet, then you should! If you are missing out on this opportunity, you are missing out on huge opportunities to expand your target audience, increase your brand awareness, and maximize your profits. Learn how to sell on TikTok, how much it costs to sell on the platform, and how to find profitable products to sell in this article.
If you're new to the platform, you can start selling on TikTok by following these steps.
Determine your target audience
Once you've determined who your ideal customer is, it's time to promote your business and start making profits.
Create an account and Switch to a Pro Account
The first step is to download the TikTok app, create an account, and then begin exploring it. Follow the instructions to complete the registration. When you first join TikTok, you'll be given a "Personal" account by default. With a Pro account, you can access detailed analytics and track the performance of your page to determine which videos are effective and which should be removed. These insights can help you better understand your viewers' interests and optimize your content strategy.
Create Content
Once you've done that, you can start making some entertaining TikTok videos. It's time to show off your brand attitude and begin developing a brand image. Before you begin, I recommend that you look through trending TikTok videos to get a perception of what TikTok videos are like. It's a bit different to other social networking. TikTok users favor authentic and genuine content, and prefer light, fun, and creative content. Businesses can attract users through creative video content, special effects, music, etc.
If you are selling in a different region, localization is essential. Businesses can create localized content based on local culture, customs, and popular elements, making it easier for local users to accept.
The length of TikTok video is also essential. TikTok videos usually last between 15 seconds to 60 seconds. Therefore, businesses need to attract users' attention and convey information in a short time.
Always create high-quality content for your audience. The quality of the video and sound needs to be high to ensure the user experience. Besides that, the posting time affects the post reach. The publishing time should consider the local user's usage habits and avoid posting videos during periods of inactivity.
Add product links to TikTok videos
To add product links to TikTok videos, you must first create a TikTok Pro account and link it to a Shopify or other e-commerce platform account. After linking your TikTok account to your e-commerce platform, you can create a new TikTok video and click the "Add Link" button at the bottom of the screen. Enter the product link and select "Save."
Post your video to TikTok once you've finished editing it. Viewers can now browse directly to the product page on your e-commerce platform by clicking on the link in your video.
Utilize TikTok ads and influencer marketing
Influencer marketing and TikTok ads can help brands tap into the platform's massive audience and drive significant growth.
TikTok advertising can be a great way for B2C brands to promote their brand. The short video clips on TikTok allow marketers to demonstrate their products in action and convey a great deal of information. TikTok advertisers can share engaging content instead of just static ads. TikTok offers a variety of ad formats, including in-feed video, brand takeovers, spark ads, carousel ads, etc. Your campaign goals and target audience should determine the format you should use.
Collaboration with TikTok influencers also generates dramatic results. Finding influencers in the same niche as you can help to broaden your audience reach and raise brand awareness. Remember to remind and encourage influencers and audiences to use your branded hashtags when creating user-generated content.
How much does it cost to sell on TikTok?
TikTok charges a low commission fee of 1.8% for the first 90 days, increasing to 5% after that period. In comparison to other e-commerce platforms, the platform has a relatively low commission fee.
TikTok ads can be a bit pricey. TikTok ads can cost anywhere from a few hundred dollars to several thousand dollars, depending on several factors. In order to ensure your budget works efficiently, you have to set a budget and test a variety of ad formats and targeting options in order to discover what works best for your brand. It is not an affordable marketing option.
Influencer marketing on TikTok is worth to try. The cost of launching an influencer marketing campaign on TikTok is similar to other social media platforms. The larger the influencer's following, the higher the cost of their services. The fee may be a few hundred dollars per post for micro influencers with thousands of followers. Influencers with a mass following may charge thousands of dollars or more.
Overall, TikTok selling cost vary based on which products you sell and what strategies you use to promote them. TikTok offers an excellent opportunity for brands to reach a massive audience and drive sales. However, it's worthwhile to consider the costs and potential ROI before diving in.
How to find trending products to sell on TikTok?
Finding popular products to sell on TikTok can be a brilliant method of reaching out to the platform's massive audience and increase sales. Here are some tips for finding trending products to sell on TikTok.
Use TikTok's Discover page to find trending products. If you are looking to find trending products, then TikTok's Discover page could be the place for you. Look through the different categories and hashtags on the platform to discover what types of products are popular and what types of products are not.
Look through hashtags that are relevant to your product category in particular. If you sell beauty products, for example, you might want to look at hashtags like #beauty #makeupoftheday, and so on.
The quickest way to find winning TikTok products is to use the TikTok analytics tracker as well as influencer analytics tool, which lets you analyze all TikTok e-commerce data. Shoplus is a powerful TikTok analytics tool free for TikTok business. It provides product ranking lists for you to explore. Shoplus users can add filters to get the precise results, such as demographic, product category, etc.

While browsing, you can monitor, save, and export data for specific products. It's easy to use and time saving for users.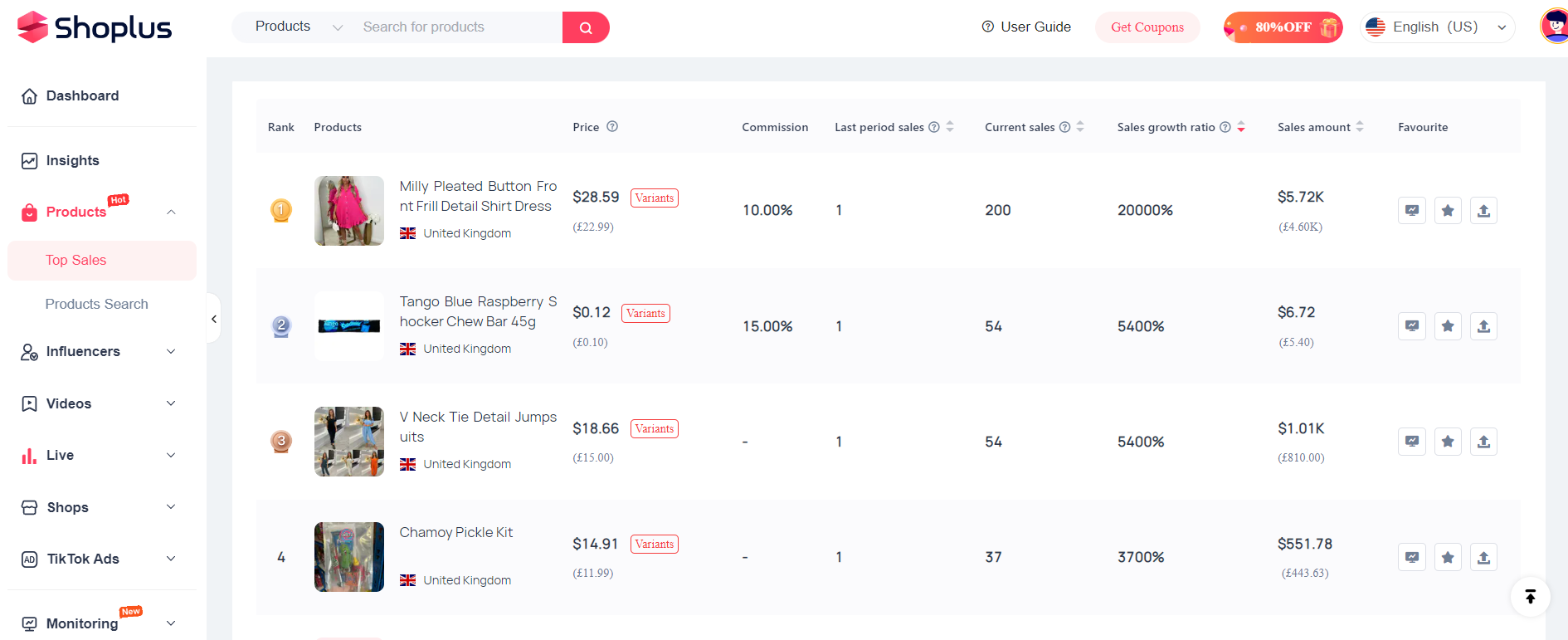 In the product detail page, you can find sales performance, videos, and influencers relevant to the product.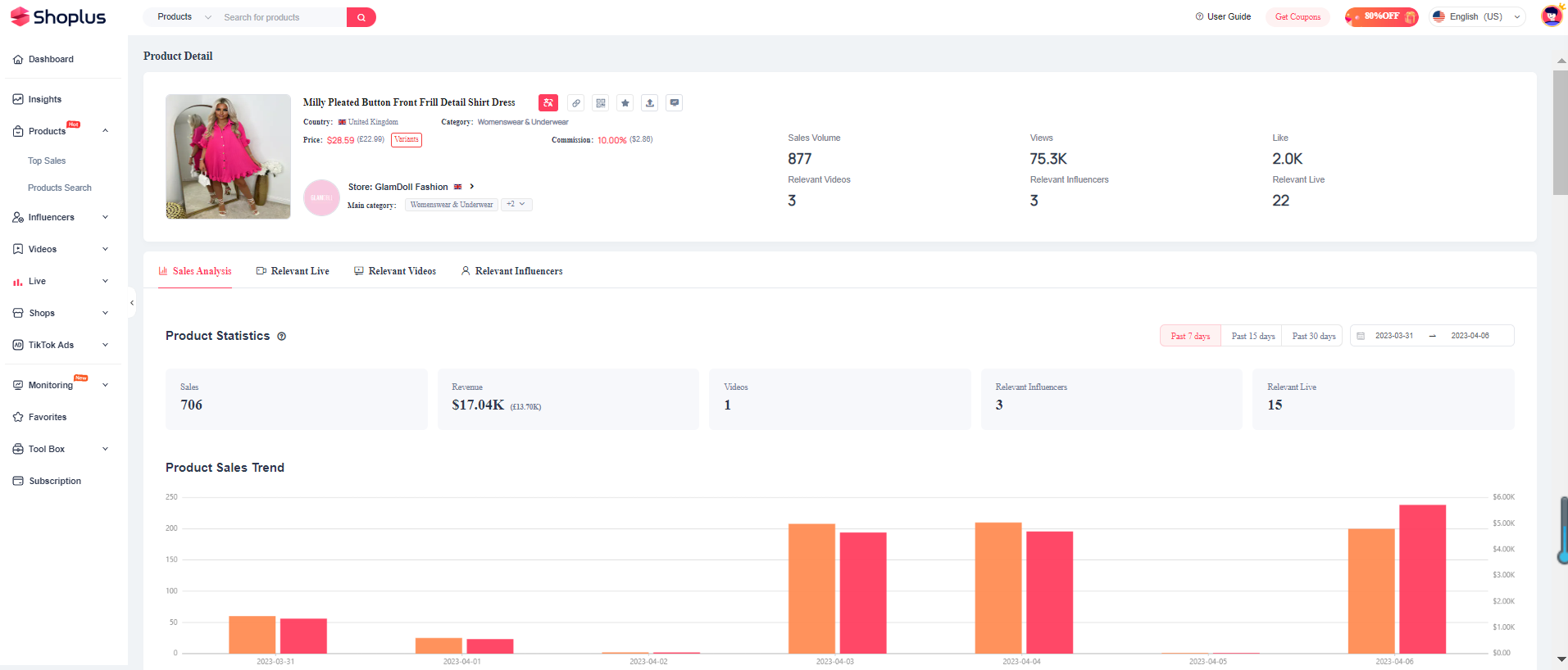 By keeping an eye on TikTok product trends on Shoplus and understanding your target audience, you can identify trending products that are likely to perform well on the platform. Trying out different products and strategies will help you determine which works best for your brand. As the most recommended tiktok analytics tracker, Shoplus will always provide comprehensive insights for all tiktok sellers & influencers.