In the increasingly competitive market, live streaming retail has become more and more important as an innovative marketing tool, and its model is gradually favored by consumers. According to research institutions, the e-commerce market in Southeast Asia will grow at a rate of 30% per year in the coming years. In 2022, the annual growth rate of gross merchandise volume (GMV) in the Southeast Asian live streaming e-commerce industry reached 306%, and the order volume increased by 115% year-on-year. By 2023, the market size of live streaming e-commerce in Southeast Asia will reach 19 billion US dollars.
Why is live streaming retail so popular? How does live streaming promotes consumer consumption? And how can TikTok merchants use this method to increase sales?
Shoplus will answer the above questions.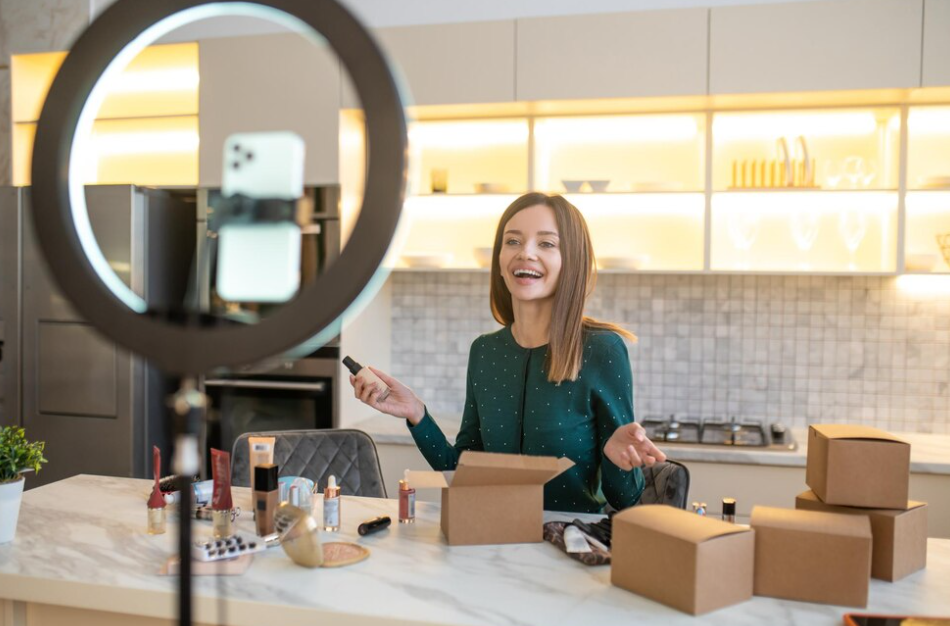 01 Why is live streaming retail so popular?
Southeast Asia has a large population, and young people account for the majority, with 70% of the population under the age of 35. The characteristics of young people are high acceptance of new things and curiosity. They love to surf the internet, collect and watch various types of information online. The vast young population provides a broad internet sales market, which is the first reason why live streaming retail is hot in Southeast Asia.
The characteristics of live streaming retail just cater to the preferences of this group of people. The real-time and visual nature of live streaming retail, combined with the style that integrates social media and e-commerce, attracts young people who are enthusiastic about socializing and new things. live streaming is more real, intuitive, and visually rich compared to static images and text, which can present product information in multiple dimensions in the shortest time, and the interactive nature enhances consumers' understanding of the products, while also providing an upgraded experience. This is the second reason why live streaming retail is hot.
The technological and economic development in Southeast Asia is the third reason for the popularity of live streaming retail. The development of the mobile payment market in Southeast Asia provides more convenient payment methods for live streaming retail. Currently, the mobile payment market in Southeast Asia has exceeded 200 billion US dollars, including payments made through mobile phones and e-wallets. Mobile payment provides consumers with a faster, safer, and more convenient payment method, which also provides strong support for the development of live streaming retail.
02 How does live streaming retail increase sales for TikTok merchants?
Through live streaming retail, TikTok merchants can communicate with consumers in real time through interactive activities, increasing product exposure and conversion rate. Many consumers in Southeast Asia prefer to learn about products through live streaming programs, because live streaming programs can provide more detailed and vivid introductions and demonstrations.
In addition, live streaming e-commerce breaks the sense of coldness in online shopping through live interactions with consumers, providing them a more real and intuitive shopping experience. The personal interaction between users through audio and video helps establish trust with consumers and increases the urge to make purchases.
03 How to conduct live streaming retail
One important aspect of live streaming retail is selecting live streaming influencers.
An excellent live streaming influencer can attract a large audience with their own charm and professional knowledge. They can not only create a good shopping experience for consumers and bring sales to businesses but also help TikTok merchants enhance their brand image and increase product visibility.
However, if the selection is not done correctly, and less professional live streaming influencers are chosen, it may not attract potential customers and may even give the audience a negative impression, damaging the brand image.
So, how should one make the right selection? Shoplus can guide you on making the right choice.
Shoplus is an effective TikTok analytics tracker, especially for TikTok shop sellers seeking for winning products to sell and evaluating the market's potential.
1、Click on Shoplus's Influencers-Top Sales, select Top Live Streamers, and view monthly, weekly, and daily rankings, check various TikTok data on influencers, and choose the ones you like based on the TikTok data.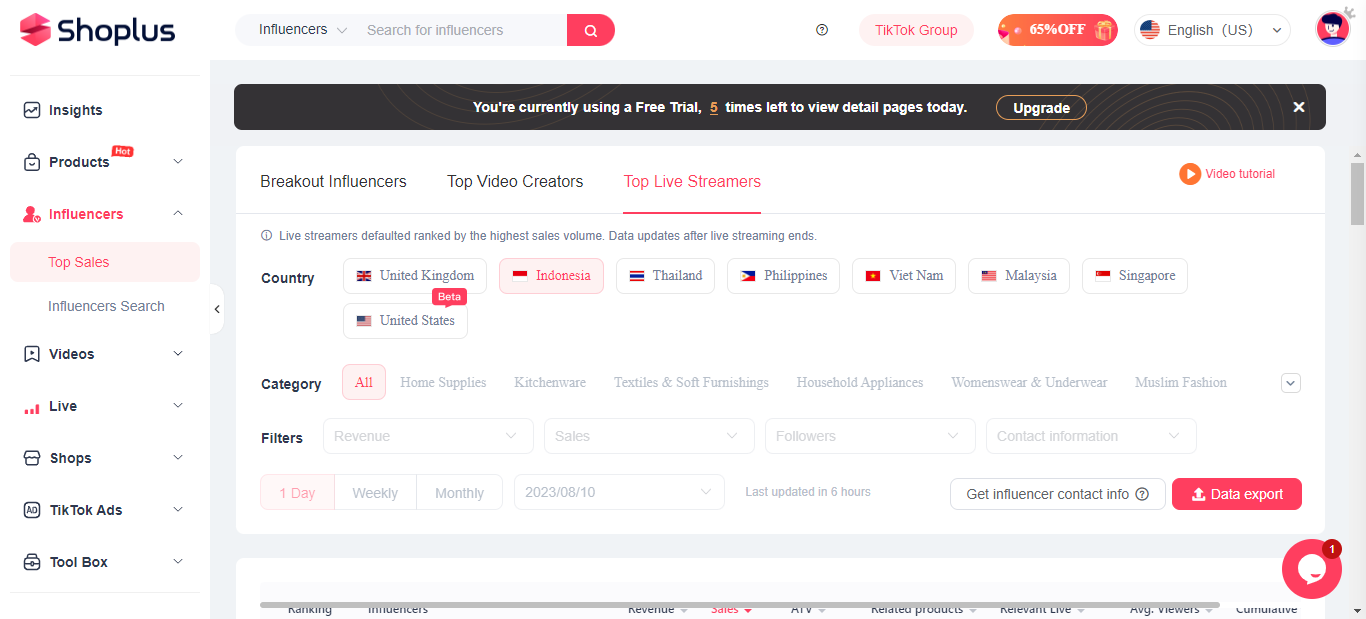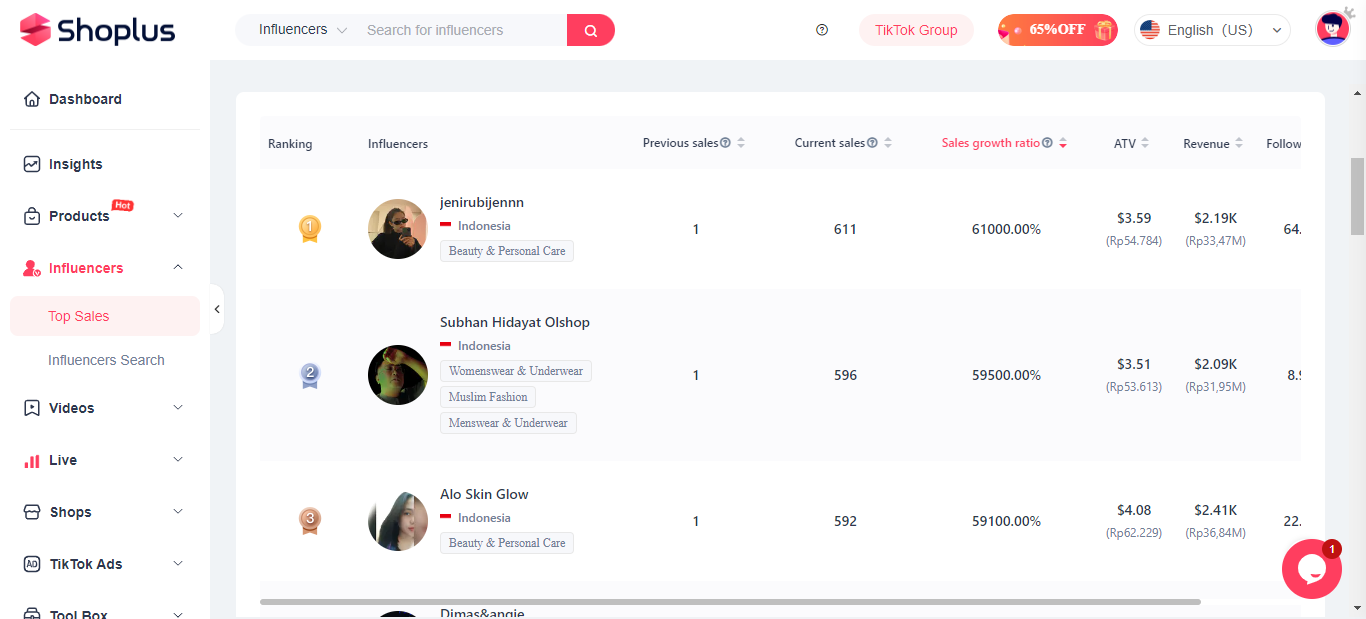 2、By clicking on "Influencer Details," you can see Relevant Products and Relevant Live, which can show whether the influencer has excellent professional skills, outstanding live retailing abilities, and if it matches the product's tone.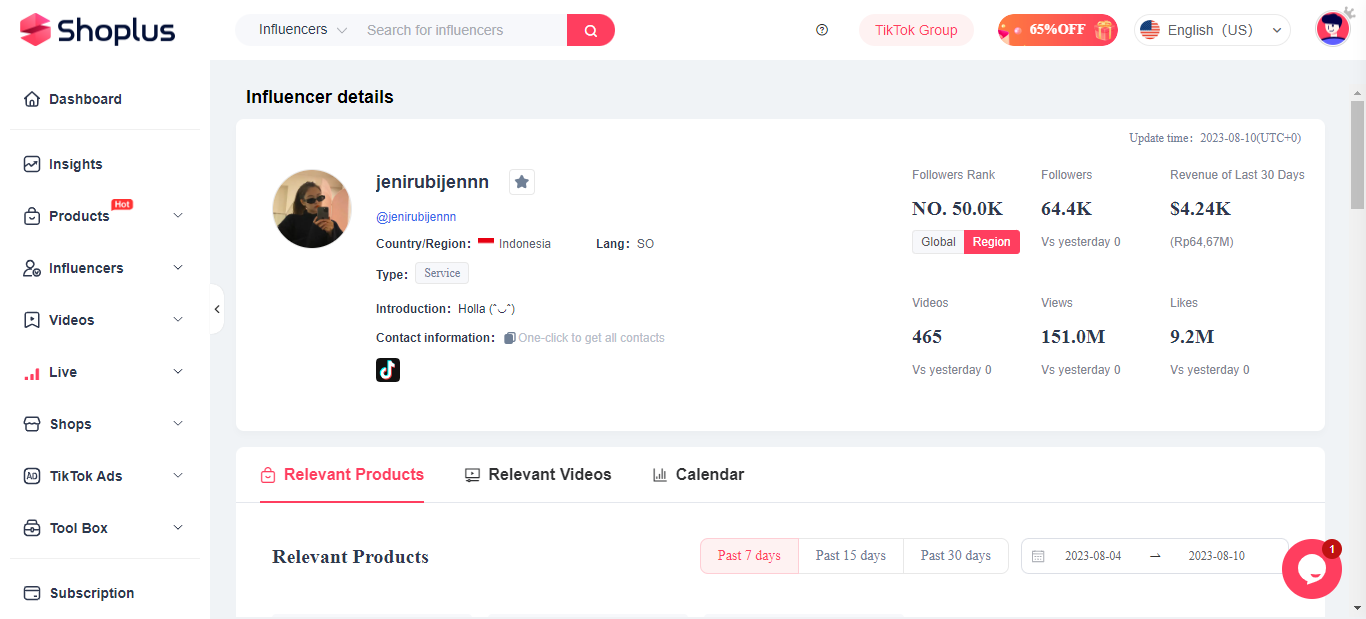 3、Once you have chosen your desired influencer, you can start contacting them. Click on "Contact information: One-click to get all contacts" to obtain their contact details.
The importance of selecting the right live streaming influencer is self-evident, and Shoplus can help you in making the right choice to earn more money. If you want to find more TikTok analytics, Shoplus is your best choice.