As the country with the highest per capita GDP in the world, the United States has the world's top consumer purchasing power. With a user base of 150 million, it boasts the largest number of TikTok users globally. With the combination of high consumer spending power and a large user base, the TikTok market in the US has tremendous potential.
Shoplus is an all-in-one TikTok analytics tracker to help content creators to keep track of TikTok trends. To meet the demanding needs of merchants exploring the US market, Shoplus has launched the "US Data" section!
Now let's take a quick look at the upgrades of this product:
1-1 Market Analysis - Gain insights into the TikTok market in the United States
In the "Trends in the US" section, merchants can easily view the trends in the US TikTok marketplace, including sales and quantity, and the data is detailed on a daily basis. It also presents the market share of various categories, allowing merchants to quickly grasp the best-selling products in the US market.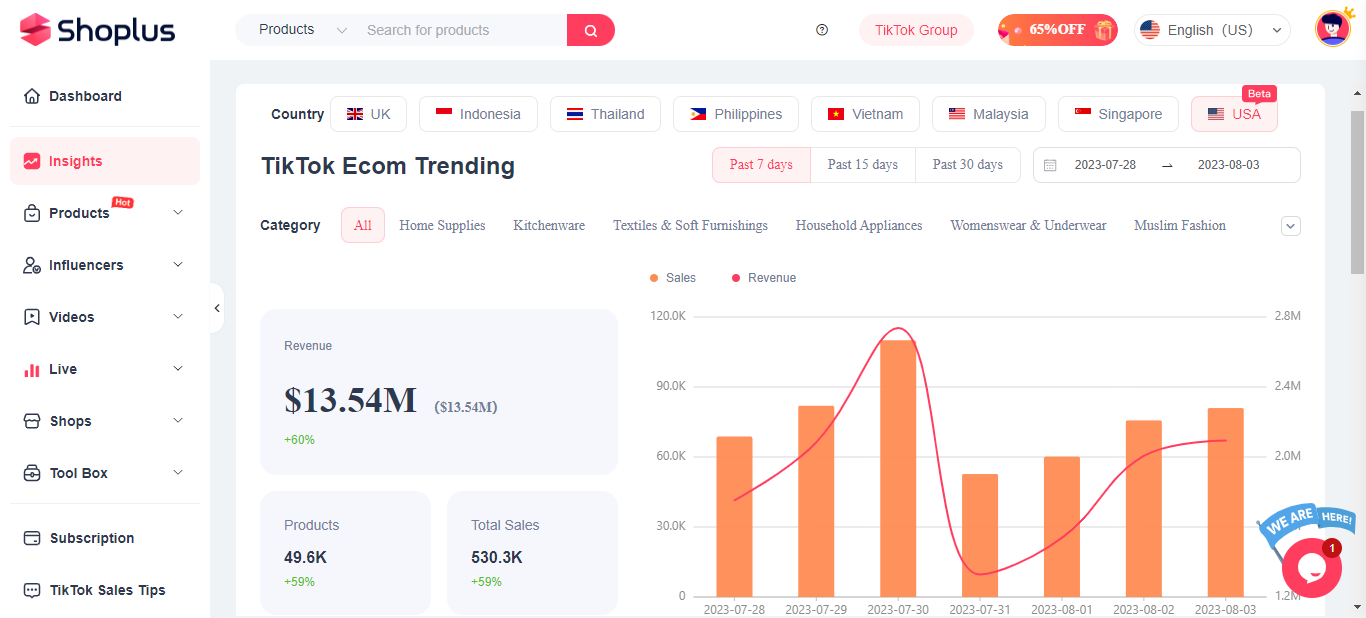 1-2 Product Selection - Unleash the potential of TikTok products in the US
The "Product Ranking" section for the US market includes rankings for Top Sales Products, Breakout Products, New Products , and Hot Products. Merchants can view the rankings based on a daily, three-day, or weekly basis to identify the Top Sales Products.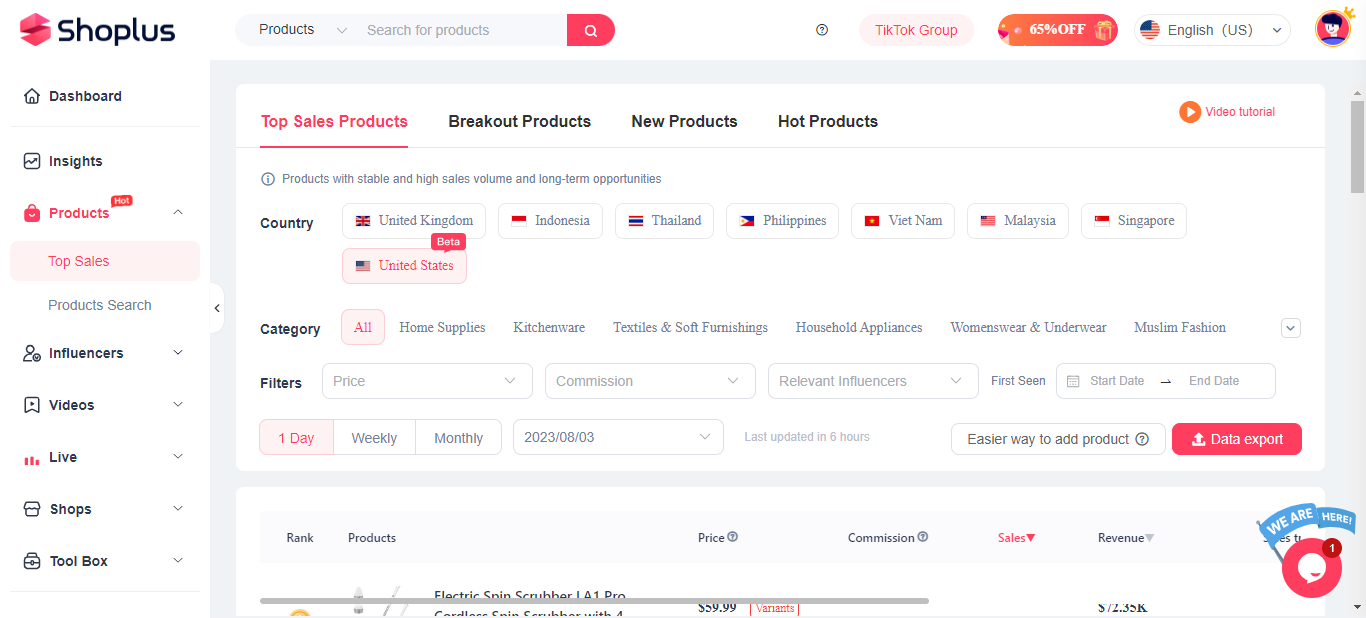 1) Top Sales Products: products with stable and high sales, offering long-term opportunities.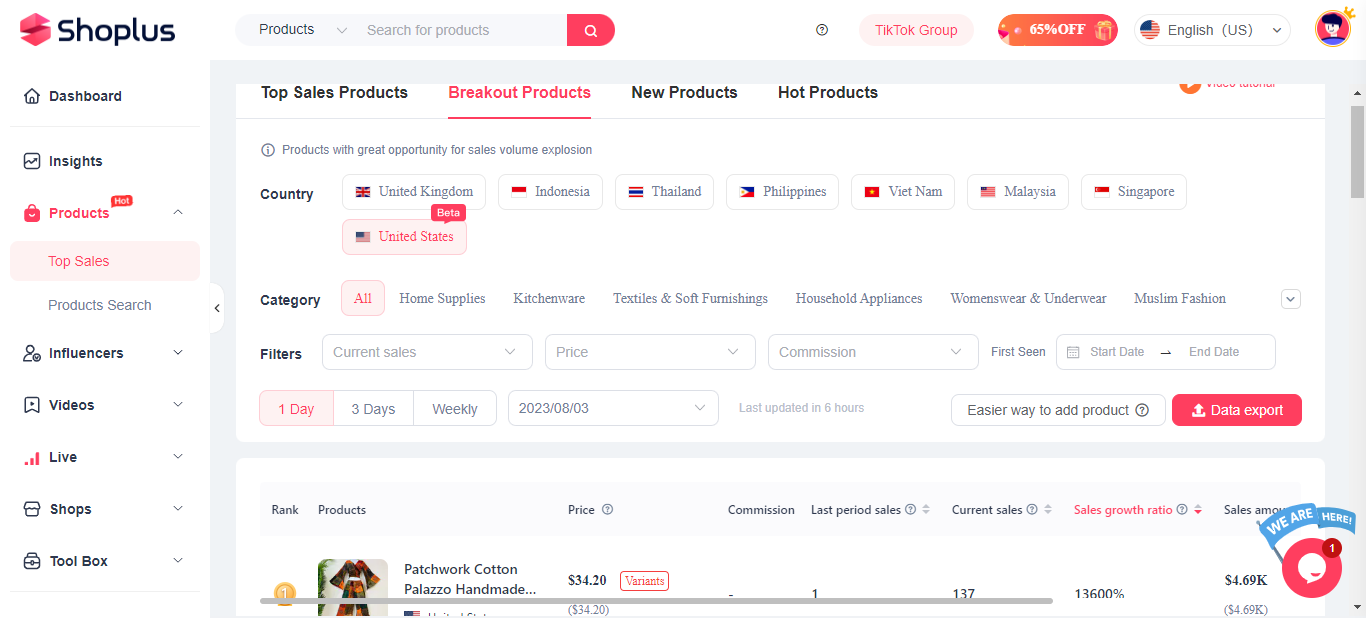 2)Breakout Products: products with significant increases in sales, indicating significant potential.
Additionally, New Product and Hot Products ranking offer insights into recently launched products with strong sales performance and products with high popularity due to influencer endorsements.
1-3 Influencer Analysis - Evaluating the influence of TikTok creators on products in the US
E-commerce distribution has become the most direct way for many brands and merchants to sell products, and more and more merchants are using a combination of creator marketing and retail marketing to boost sales. This trend is evident in the US market as well.
The "Influencer Ranking" section consists of Breakout Influencers,Top Video Creators and Top Live Streamers, representing the influencers with high potential, those with the best video marketing effect, and those with the most efficient live streaming shopping. It provides multi-dimensional analysis on the impact of US influencers on product sales, helping brands and merchants select suitable influencers for collaborations. It also supports merchants in exporting influencers' contact information with just one click, facilitating prompt communication.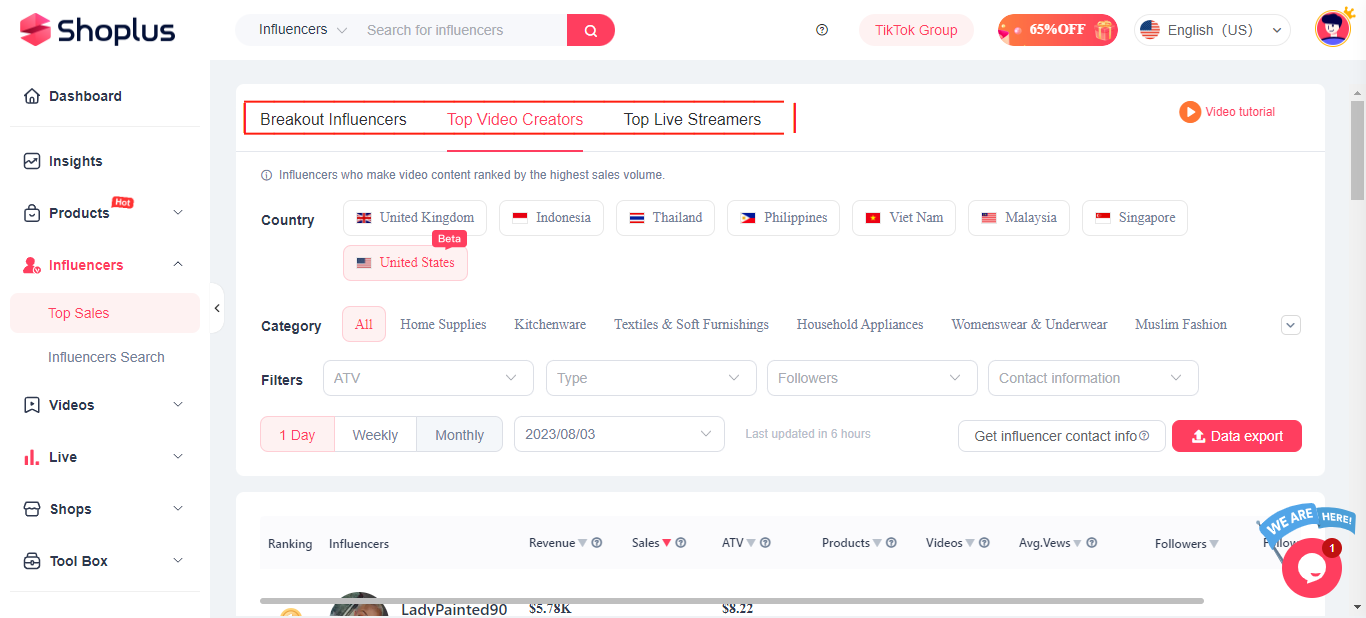 1-4 Competitor Analysis - Unveiling the sales curtain of other shops
The "Shop Ranking" section allows merchants to access detailed data on US TikTok Shop, including shop sales, revenue, product details lists, sales data generated by short videos/live streams/influencers, and the popularity of live-streaming promotions. This enables merchants to monitor competitor trends in terms of sales, new products, and promotional activities, helping them make informed adjustments to their own operational strategies.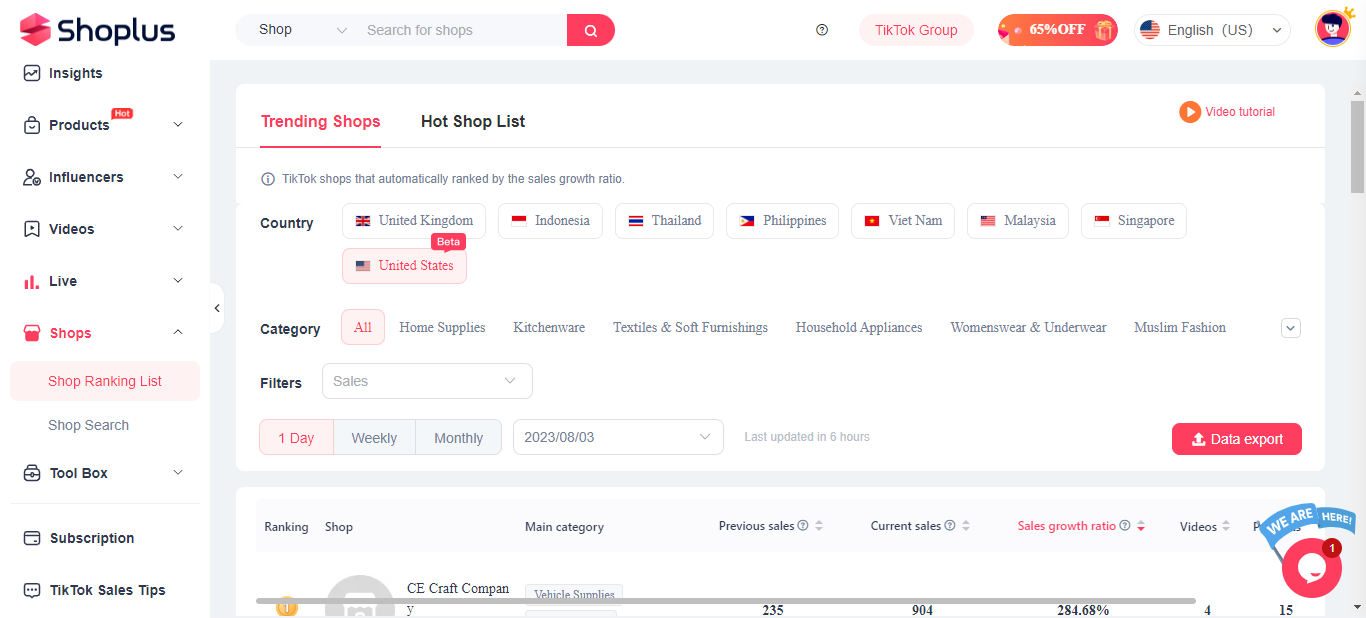 Now, we sincerely invite you to experience Shoplus - US Data!!