Social media has become the most important channel for sellers and brands. Global social media users have exceeded 4.6 billion, equivalent to 58% of the total global population. Netizens around the world spend nearly 3 hours a day on social media, and it is growing at a rate of 2 minutes a day. TikTok can be the most popular platform these days famous for viral short videos. In September 21, TikTok's monthly active users exceeded 1 billion. In 22 years, the average active time per capita has surpassed the old brands such as Youtube and Facebook in Europe, America, Southeast Asia and other advantageous regions. social media platform. TikTok is estimated to cater to a total of 1.5 billion users by the end of 2023. TikTok become a necessary choice for most sellers and influencers to promote your products. If you are not using TikTok yet, now is the perfect time for you to join. Expand your reach and reach potential clients with the benefits of TikTok for Business. If you own a small business, it's best for you to create viral videos to expand the influence of your brand.
The TikTok video playback loudness may only be tens or hundreds of decibels for beginning users. Checking TikTok analytics might be a necessary advice if you want to grow your TikTok channel's subscriber count to thousands. Have you recently seen TikTok analytics? How many views, comments, and shares did your videos receive? How engaged are fans on average? Where do the views on your TikTok videos come from? Check your TikTok Analytics if you don't know any of the aforementioned details.
What are TikTok Analytics?
TikTok analytics is a way to value overview performance of your TikTok account. For example, followers, views, likes, impressions of your tiktok channel. It can help you find which content is more popular for your audience.
Why do TikTok analytics matter?
You may learn more about the effectiveness of the videos you post on TikTok by looking at your analytics. You can use it to decide what kind of content your audience will find appealing and when to share it. Getting TikTok analytics might assist you change your tiktok marketing approach if you're having issues with it. For a TikTok marketing strategy to be effective, TikTok analytics are essential. I created this TikTok Analytics guide to assist you in getting started. This post will teach you how to get started with TikTok analytics and the key metrics you need to pay attention to. You must first switch to a Pro account in order to access Analytics. Just pick "Manage My Account" from the "Settings & Privacy" tab, then click "Move to a Professional Account." While you can now access your TikTok analytics, you won't actually see any data there yet. This is because you just set up your account. You need to wait 7 days before TikTok will start showing analytics for your account.
How to check TikTok stats and analytics?
If you use TikTok on mobile, we list the following steps for you to check TikTok analytics.
Step 1: Click" Profile" of your TikTik Account.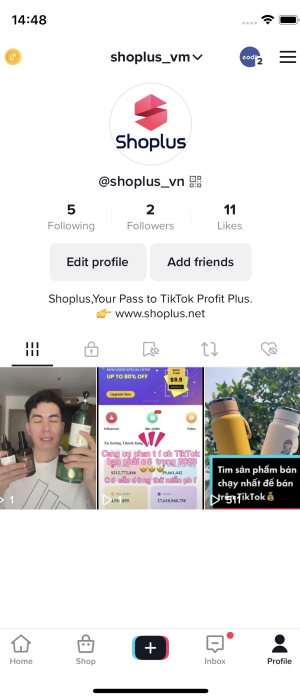 Step2 : Click on the icon in the upper right corner of the screen
Step 3: Click "Create tools"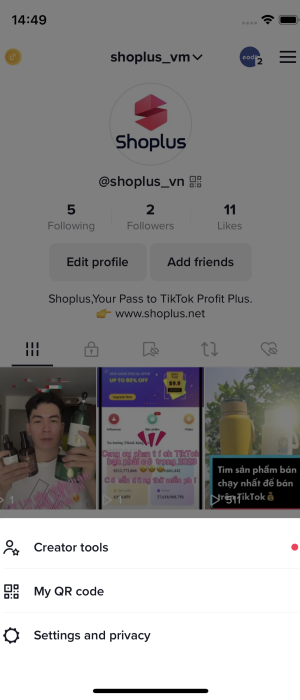 Step 4: Click "Analytics"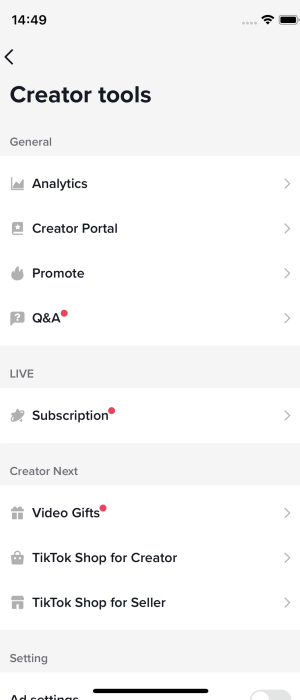 Step 5: You will see free TikTok analytics including account overview, content, followers, live, etc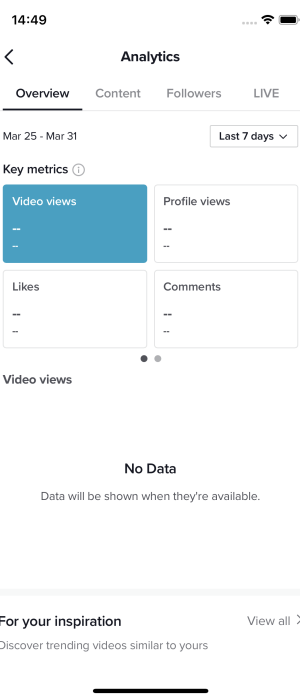 If you use TikTok on desktop, you can see free TikTok analytics
Step 1: Click your profile
Step 2: Click " View Analytics"
Step 3: View "Overview", "Content", " Followers".
Overview gives you summary of account performance over a period of time. See total number of video views, profile views, followers. In content section, you can see videos with fastest growth in the past 7 days. In followers section, you can see growth of followers growth and when are your users most active. Besides these factors, you also need to notice top tiktok videos, best time to post on tiktok, trending tiktok hashtags, engagement rate, etc. For detailed information, you can also read "8 Essential TikTok Metrics Marketers Need to Know".
Check Free TikTok analytics using Shoplus-the best TikTok analyzer
TikTok analytics tools should be an essential part of your TikTok marketing. You can rely on TikTok analytics to figure out what, how and when you post. Analytics can help you adjust content strategy to maximize your brand's reach and engagement on TikTok. Shoplus is the most recommended tiktok analyzer in 2023, offering free tiktok analytics including tiktok ads performance, find trending tiktok products, etc.
See TikTok ecom trending
Using Shoplus-the free TikTok analyzer, you can check tiktok ecom trending in various countries & category in past 7 days or 15 days, or you can custom the time period to track the data you want. Shoplus also offer commodity category data, such as revenue, share of sales, growth rate, etc.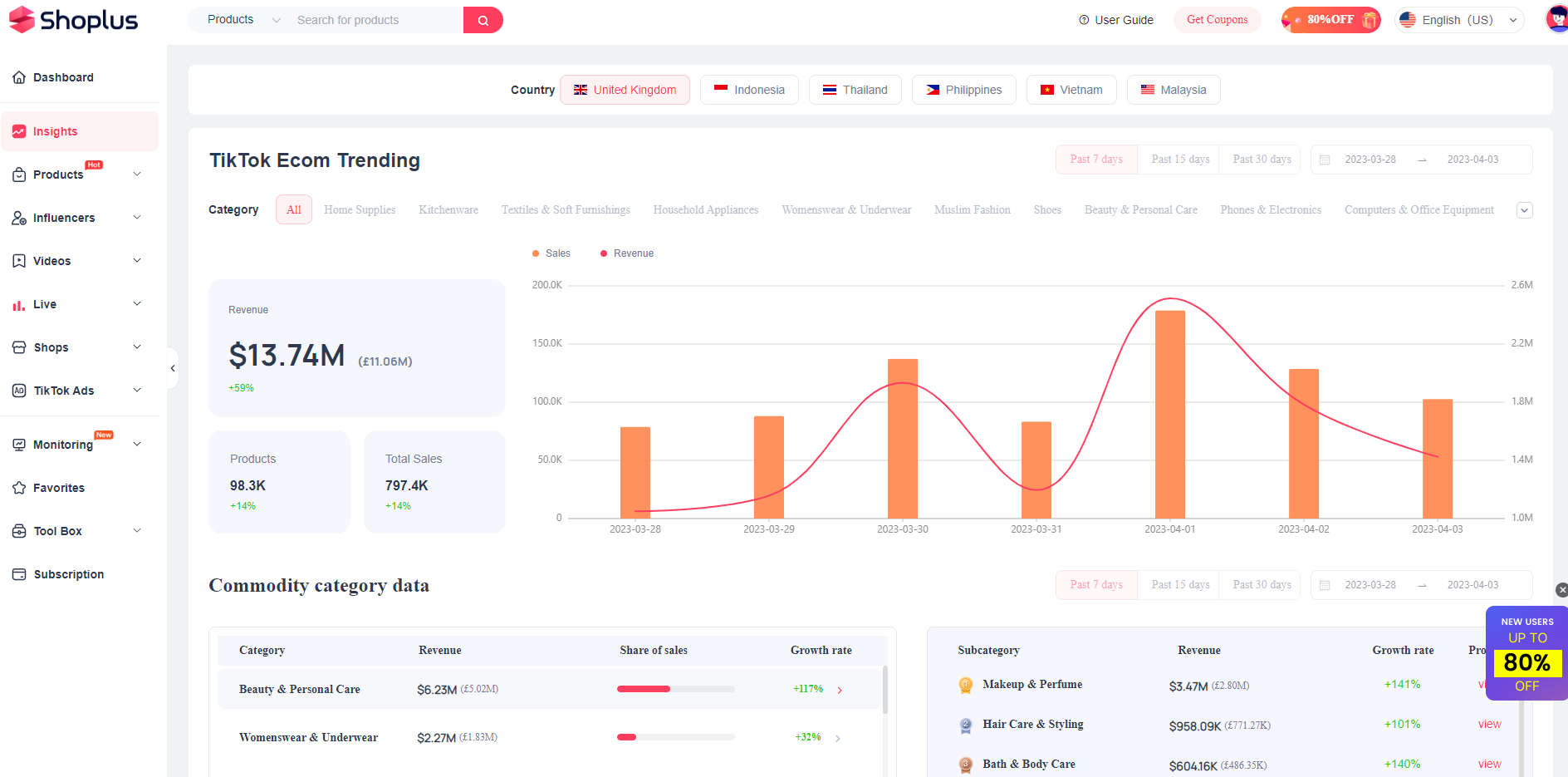 Get comprehensive free TikTok analytics
Free TikTok analyzer-Shoplus also provide analytics data of trending tiktok products, hot tiktok influencers, videos, tiktok livestream, tiktok shops as well as tiktok ads. No matter you are TikTok sellers or TikTok influencers, shoplus can help you boost your tiktok followers and gain tiktok success.