Product research is an essential stage in maximizing your revenue potential whether you own an online business or a drop shipping business. Although effective marketing strategies can drive conversion and sales, the product itself is the most important step for profit growth. But, how to conduct a comprehensive product research and find trending TikTok products to maximize profit potential?

This article will share the crucial steps for finding TikTok trending products so you can get ahead of the competition. Let's get started by continuing to read the whole article.
-

Explore TikTok Discovery Tab
Finding TikTok trending products is straightforward with the use of the TikTok discovery page. It's not bad to get started with this manual method.
The first thing to do is open the TikTok app and select the discovery tab. Next, type keywords that relate to the products or product category you are interested in into the search bar. For instance, you might search for "vitamin" or "collagen" if you're interested in health.
Explore the Top TikTok videos that appear in the search results. Look for videos that showcase products that are getting a lot of video views and engagement from viewers. Click 'Save' to mark down the products. This will make it simple for you to come back to these products and videos in the future. It's also worth reading the comments. Users may share their opinions about the products or ask questions about them. Reading the comments can help you figure out what your target market thinks about the products.
-

Use #TikTokMadeMeBuyIt hashtag to do product discovery
You probably have been struggling with TikTok product research if you run a TikTok business. Why #TikTokMadeMeBuyIt hashtag is essential when doing TikTok product research. The TikTok hashtags has been widely used for viral products, and has had an impressive view of over 52.8 billion. It includes TikTok videos from influencers and marketers showing and discussing new products. You can treat this popular TikTok hashtag as a Go-To product discovery tool.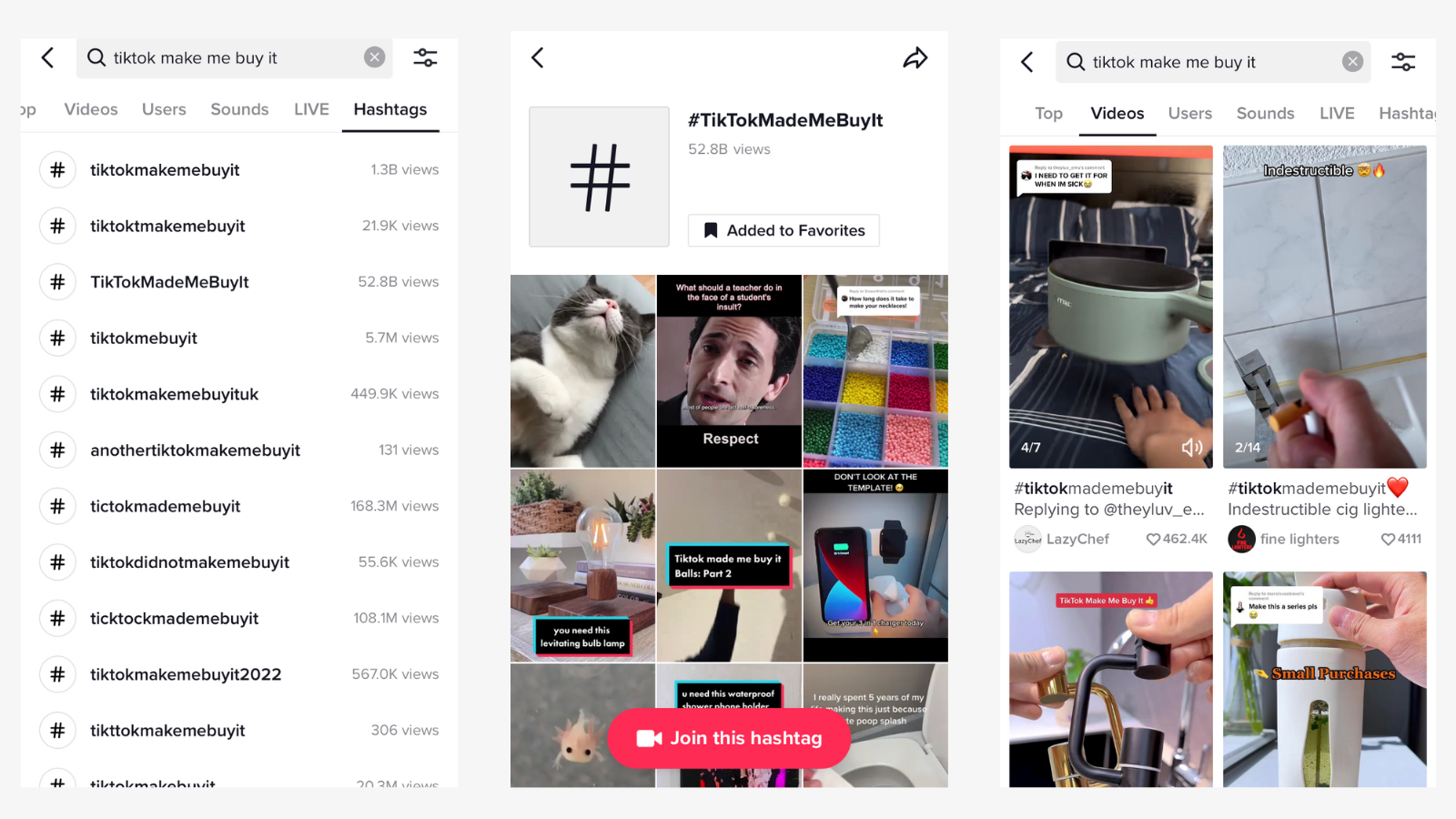 -

Follow vertical Influencers
Following vertical influencers can be a good way to keep up with trending products, since these influencers are experts in their particular fields. As a result, they have a loyal following of people who trust their opinions and recommendations, and new trends and products often become familiar to them before the general public.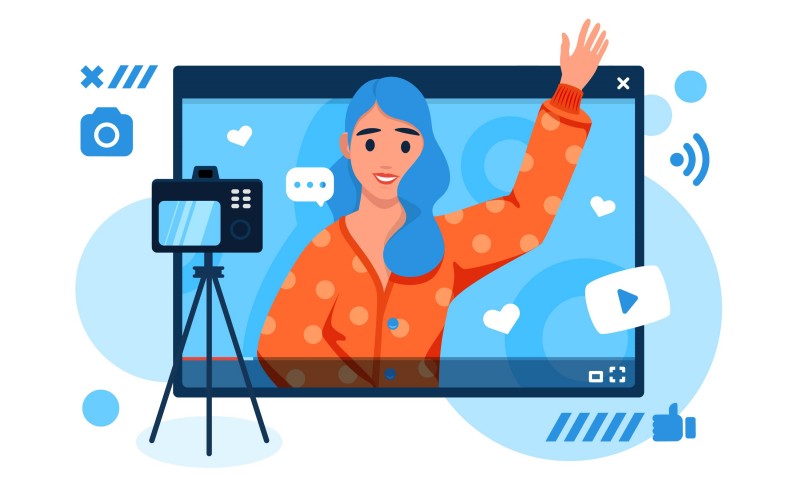 You can gain insights into popular products and trends within your niche by following vertical influencers on social media platforms. They often post their content across different social networks. If you want to find TikTok trending products, then find vertical TikTok influencers to follow to monitor the latest TikTok product trend. They not only showcase new products within their content, but these influencers also share reviews and recommendations, along with tips and advice on how to use these products. Using influencer reviews and viewer comments, TikTok sellers can determine the product's potential. Consumers' buying decisions are highly influenced by influencers' opinions.
Paying attention to business developments and news is also vital for TikTok business success. Identifying current product opportunities is critical, but staying aware of long-term opportunities is also essential to success. By following vertical influencers, you'll also remain aware of changes and developments within their industry in addition to discovering new products and trends. As part of their niche-specific content, they may share news and insights about new technologies.
In short, obtaining valuable insights and information from vertical influencers will assist you in making informed decisions when selecting TikTok trending products.
-

Use a product discovery tool
An easy way to explore product opportunity and make data-driven decisions is to leverage product discovery tool. If you're looking for TikTok trending products, then here's a time-saving and easy–to-use product discovery tool - Shoplus.
Our Shoplus user can identify the potential of products and product categories within the specific demographic, evaluate market potential, and predict future trends for TikTok e-commerce. Multidimensional product analysis is available to our users through the <Find Products> feature.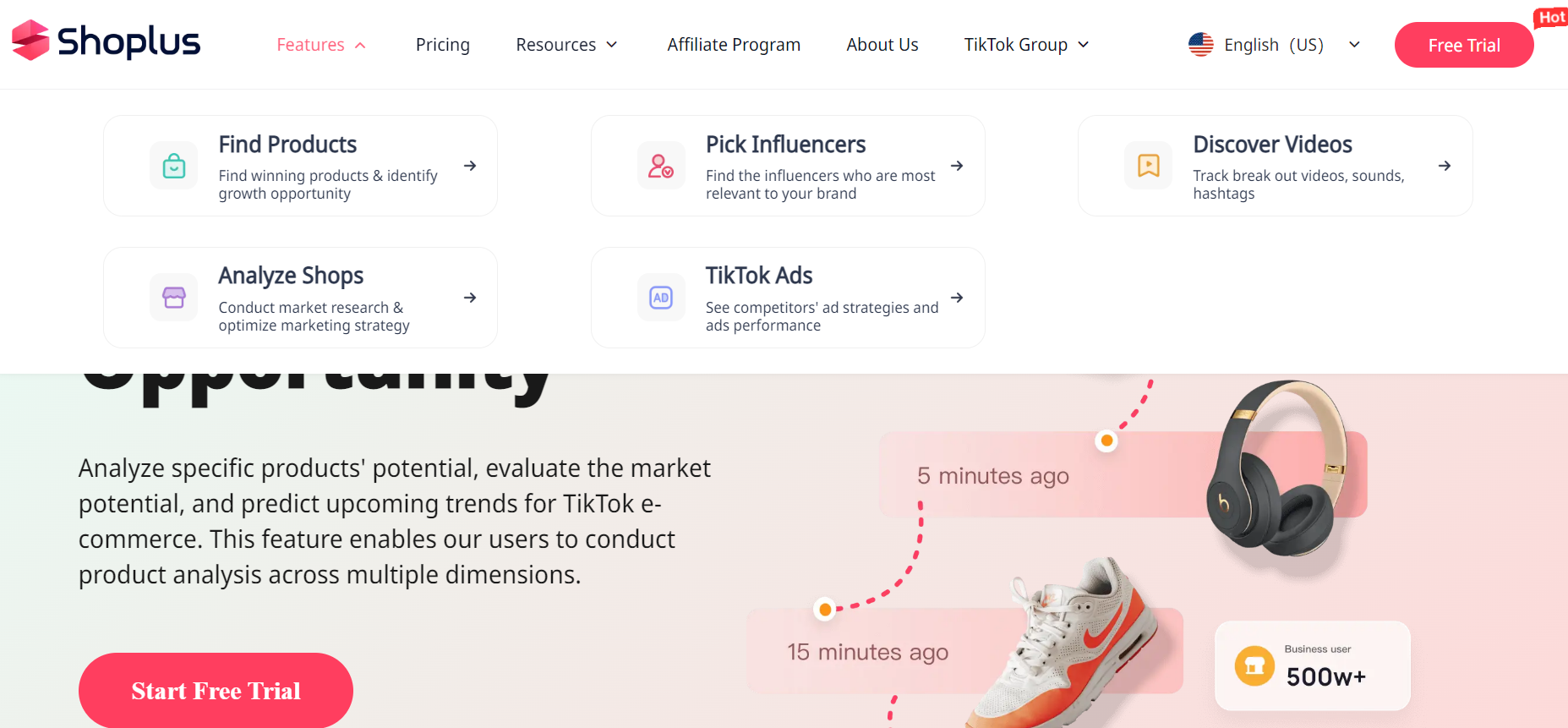 -

Test and optimize your decisions
To make more confident decisions, test the products you've chosen with your target market. You can perhaps skip this step if you find TikTok trending products with Shoplus. If you are manually selecting TikTok trending products, it is suggested to test your chosen products and optimize your marketing strategy.
When you've found the products that are trending, test them out and refine your advertising strategy to maximize profit potential. TikTok advertisements,TikTok influencer marketing, and other strategies can be used to connect with your target demographic and increase sales.
By following the above steps, you can locate TikTok trending products and maximize your business's profit potential. Stay on top of TikTok trends and engage your audience to establish a loyal following and drive long-term success.