TikTok has over one billion monthly active users worldwide. It's not surprising that TikTok would be such a desirable platform for brands looking to reach as many audiences as possible. According to TikTok's officially released data, it has become the go-to platform for nearly 5 million businesses looking to grow and succeed on the platform, including countless small firms. TikTok's large opportunities also introduce fierce competition among brands. It is necessary to take a sneak peek at your competitors and track their marketing moves.
In this article, we'll go over the steps for conducting a competitive analysis and explain why you should utilize this marketing strategy to improve your business. With our TikTok analytics tracker, you can identify your competitors and develop a more effective marketing strategy.
What exactly is TikTok competitor analysis?
Competitor analysis often refers to competitive analysis, which involves the research process to identify and evaluate current and potential, direct and indirect competitors, to reveal your brand's strengths and weaknesses.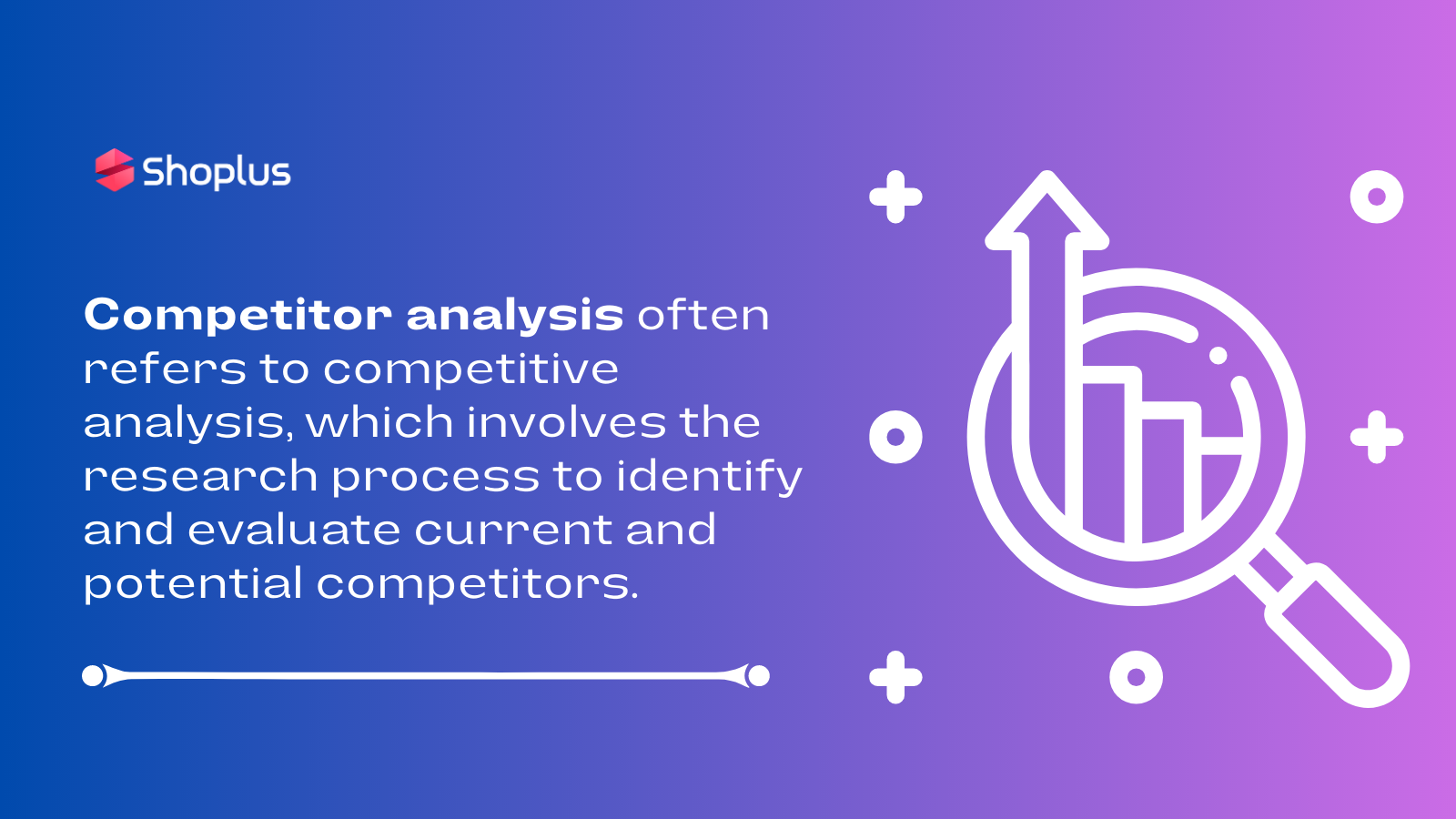 Direct, obvious competitors market the same products to the same niche that you do, whereas indirect, potential competitors market to a different audience. It's essential to look through both kind of competitors to get an effective competitive analysis. You can use the information gathered after identifying your competitors to evaluate your market position. This involves identifying your unique selling proposition (USP) and differentiating yourself from your competitors.
Why is it helpful to research TikTok competitors?
Studying TikTok's competitors will help you better understand the marketplace, spot trends and best practices, and optimize your content to increase your platform performance.
The secret to growing TikTok engagement is keeping track on your competitors' performance. Analyzing your competitors' posts might assist you with content optimization and help you perform better on the platform. This can help you create content that is more likely to engage and attract your target niche.
Identifying your competitors' best practices will provide insight into what works for them and what their marketing approach was. Good, engaging marketing strategies have an impact on a brand's exposure and relationship with its audience.
Spotting market gaps that you can fill is another reason to research TikTok competitors. By doing this, you may establish a distinctive brand identity and differentiate yourself from your competitors.
-

I

dentify your competitors
How do you find competitors on TikTok? There are plenty of ways to find your competitors, but if you aren't sure where to start, you can find competitors by searching for relevant keywords or hashtags to see if any brands that are similar to yours.
If you have a few competitors' names in mind, you can search their names on TikTok. You will be able to see their account right away (s). You may have noticed that some brands have multiple social media accounts on various platforms. It is worthwhile to investigate their accounts on other social networking sites as well, as this will allow you to learn about their social media marketing strategy.
-

Keep track of the key metrics
Analyzing the key metrics can give you insight into your competitors' content strategy, audience engagement, and overall platform perormance. Using the insights gained from this analysis, you can improve your TikTok content strategy and performance. When conducting a TikTok competitor analysis, there are several metrics to consider.
Here are a few key metrics:
l Follower count
l Engagement rate
l Video views
l Top posts
l Branded hashtag usage
You'll compare each detail of your product or service versus the competition to assess strategy efficacy. By comparing key metrics across companies, you can make data-driven decisions.
-

Analyze your rivals' content strategy
To conduct an in-depth competitor analysis, we recommend visiting the competitor's profile directly on TikTok and getting a quick overview of how frequently they post, how well their posts perform, and how they structure their content. It would be easier and more time efficient to simply search your competitors' names on TikTok competitor analysis tool and receive all of the answers you need for your competitors' profile analysis. You can develop a comprehensive competitor analysis by answering these basic questions about your competitors.
Although you can generate and calculate the data yourself, it takes time and can turn out incorrect. As a better alternative, you can use a TikTok analytics tool like Shoplus to get a deeper understanding of your competitor's account (s). Get a ranking list of TikTok shops and search for specific shops using the 'Analyze Shops' feature. To begin, follow the steps highlighted in the graph.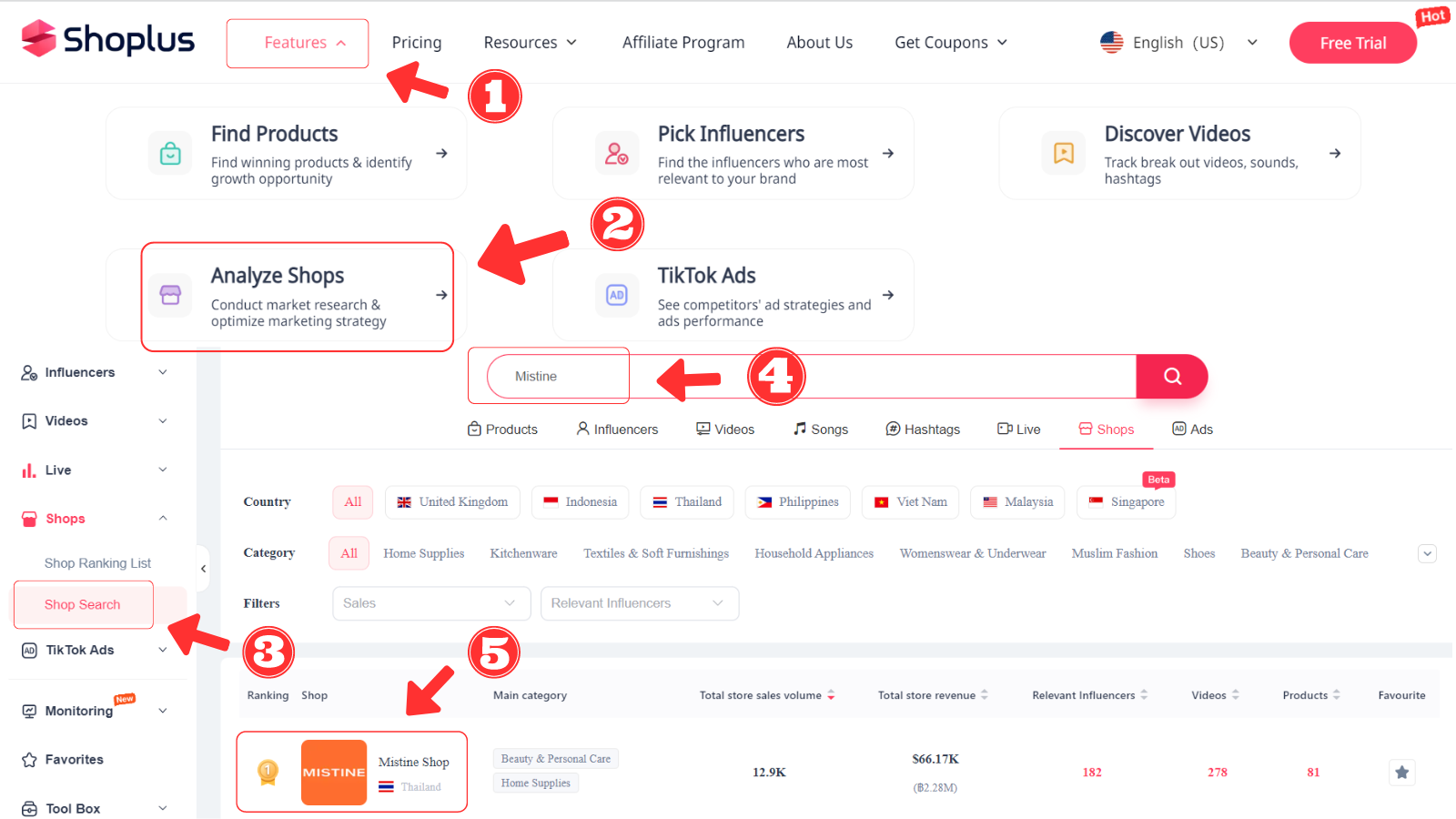 Mistine is used as an example. Click on the shop to see more information. As a Shoplus user, you will be able to see the overall sales performance and marketing strategy of the TikTok shop. Here are some questions you will be able to get answers to. How many TikTok Lives have they run and how are they performing? It would be useful to know how many TikTok influencers they collaborated with, what their best-selling products and product categories were, etc.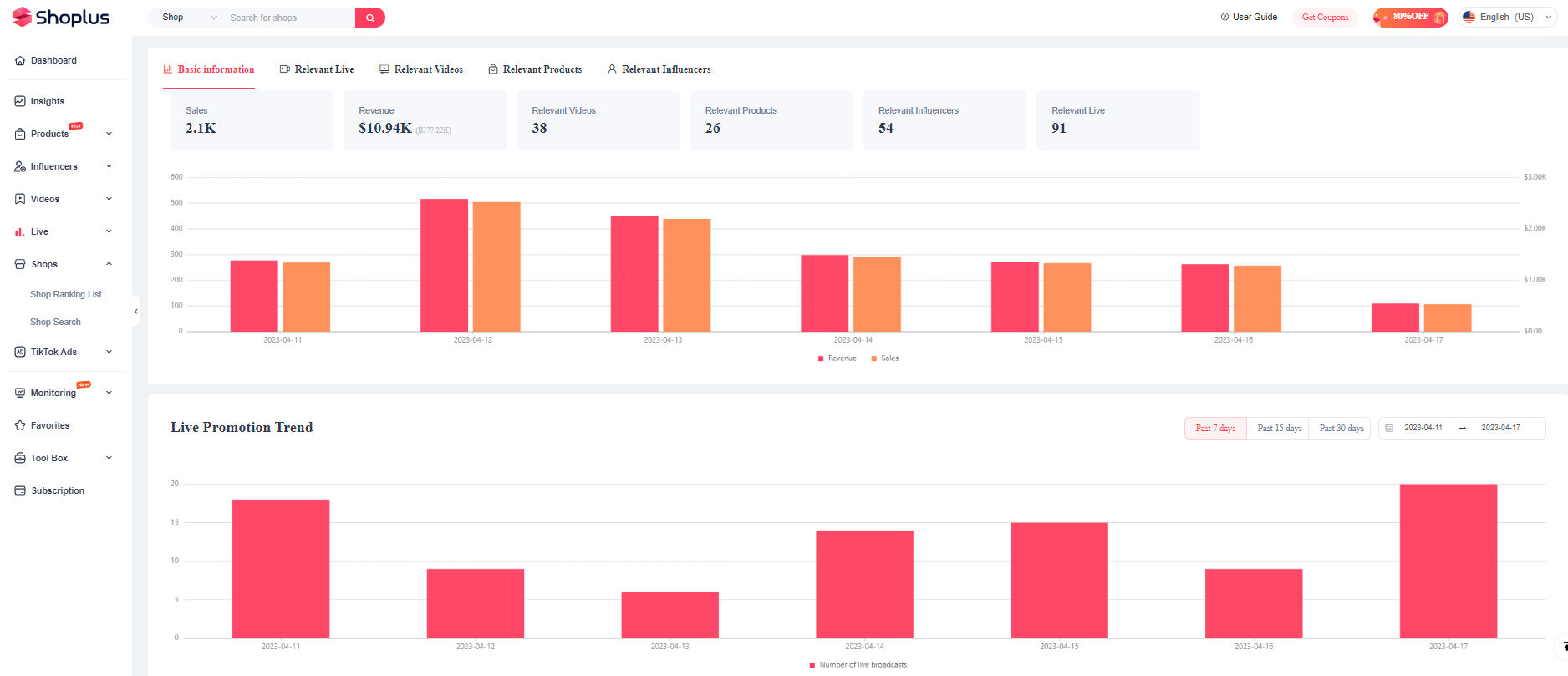 To develop a strong marketing strategy, you must fully research your TikTok competitors. Take the chance the platform provided and start utilizing the TikTok analytics tracker to analyze your competitors on TikTok.