With over 1.5 billion monthly active users, TikTok is one of the most popular social media platforms out there. It also has an incredible growth rate, which means that your brand can increase its visibility and penetration by marketing on the platform.
So, how do you get a piece of the pie for your brand? The next step after joining TikTok is to get users to find and engage with your content. The solution? Viral TikTok theme hashtags.
What are TikTok Trending Hashtags?
Hashtags are key to using TikTok. They categorize content, much like other social media platforms (such as Twitter or Instagram). Trending hashtags on TikTok appear on the "Discover" tab, which displays the most popular and widely used theme hashtags on the platform.
Why Trending Hashtags are Important on TikTok
On TikTok, theme hashtags are crucial because they're related to the platform's algorithm, which determines which videos appear on users' "For You" pages. Here are a few reasons why TikTok trending hashtags are essential:
1、 Discoverability
The beauty of theme hashtags is that they're a user-generated tagging mechanism that can increase the impact of your videos by showing them to more people beyond just your followers.
2、 Community building
By adding relevant and popular TikTok theme hashtags to your videos, you can create an audience community that regularly watches your content.
3、 Keeping up with trends
TikTok challenges are an effective way to increase your profile and video coverage. Millions of people follow and participate in these trends, so when a new one arises, give it a try yourself.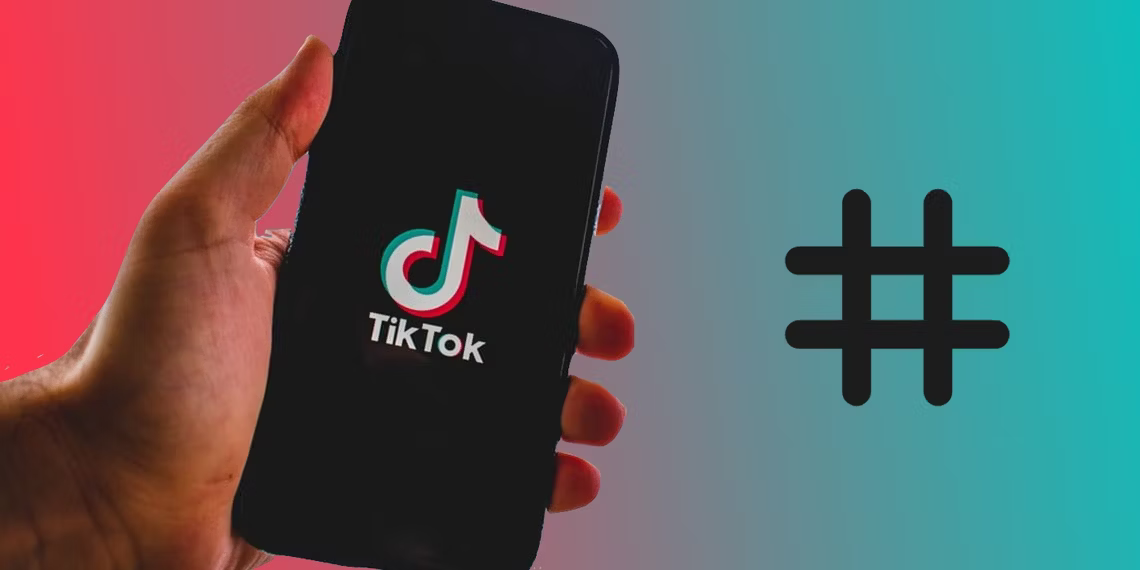 How to Find Trending TikTok Hashtags
1. Use the TikTok Discover Page
Another way to find popular hashtags on TikTok is simply by using the app itself. Here's how:
● Open your TikTok app and go to the "Discover" page.
● Here, you'll find popular content based on your activity.
● Check the theme hashtags used in these posts.
● Select the theme hashtags you want to explore further.
● Scroll through videos associated with the theme hashtag to see what content is popular.
● Repeat the process to find more trending hashtags.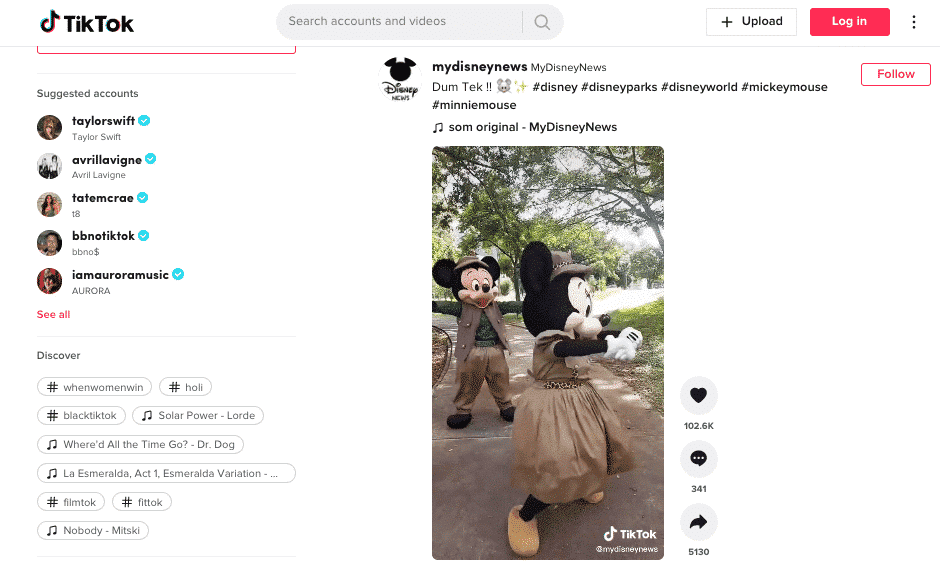 2. Use the TikTok Creative Center
The TikTok Creative Center is another resource for finding trending theme hashtags on the platform. It provides the latest data on theme hashtags, including trends in different categories.
It also offers some useful hashtag analytics, such as top creators and audience insights.
You can view theme hashtag trends for the past 120 days and some related trend videos for US users.
The downside to this method is that it's quite broad and has a limited time range.
3. Use a TikTok Analytics Tracker
You can use TikTok analytics tools like Shoplus to search for a specific hashtag and see the overall browsing volume for each theme hashtag. This not only shows the trend of the theme hashtag over time but also gives you a comprehensive understanding of its popularity by viewing the total number of views. You can even discover popular videos under the corresponding hashtags and learn from their creativity to find and create niche-related themes.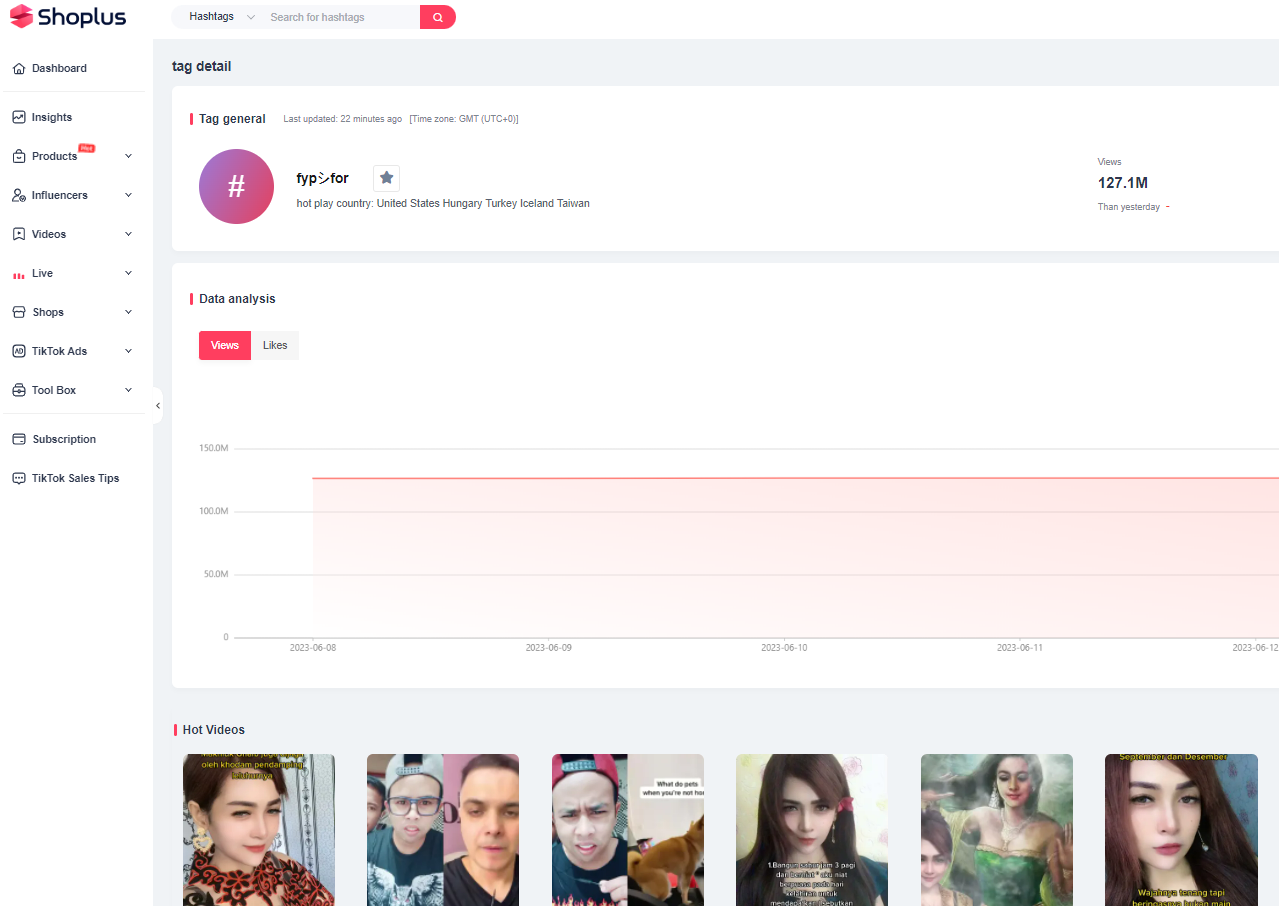 How to Use Trending TikTok Hashtags to Go Viral?
The fact is, using Trending TikTok theme hashtags can give you some visibility, but it doesn't guarantee viral spread like a virus.
Here are some tips that can help you solve this problem when using trending hashtags:
1. Create Engaging Content
You may already know this, but it cannot be overstated how important high-quality and creative content is. Finding trending hashtags on TikTok is one thing, but creating high-quality content related to that theme is another equally important thing. Therefore, the key to creating content that truly captures people's attention on social media is to make it engaging and interesting, ensuring that it will make people want to comment and share it with their friends. This could be silly dances or jokes. Or it could be visually stunning things like cool makeup tutorials or time-lapse photography of beautiful landscapes, and so on.
2. Use Hashtags Strategically
Don't overuse popular theme hashtags in your posts, as using too many theme hashtags can make them look spammy. Stick to 3-5 theme hashtags per post.
Pro tip: If you operate locally or want to focus on a specific city or country/region, you can also add location-related theme hashtags. Sometimes, it can help you go viral in these specific areas!
3. Collaborate with Others
Hashtag challenges are a fun way to make your theme hashtags more popular. Think of an innovative challenge and create a hashtag for it. Invite people to upload videos and content and use your custom theme hashtag in the captions. To get more followers, have participants tag interested friends and followers. Create a sense of urgency by adding time clauses to the challenge and offer attractive rewards for the winners.
You can also collaborate with influential people on TikTok who can help your challenge go viral.